Submitted by Chris Bourne on 15 November, 2011 - 15:07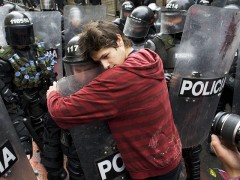 So the protesters have been evicted from Liberty Plaza
In a surprise pre-dawn raid by the New York Police, tents and banners were swept mercilessly up into huge dump trucks, some protesters were arrested and the rest moved on. It had all the hallmarks of a 'well-executed' military drill. But will the authorities ambush turn out to be a monumental own goal? It seems the Occupy Movement is here to stay, with new protests spawning around America. So what can this new development spark next? For me, I tend to always read between the lines and see metaphoric movements of energy. I see in this event an opportunity, an invitation: let us occupy the one space we cannot be evicted from - ourselves!...
My original support for the Occupy Movement has been tempered with the feeling that whilst protest is a valuable vocal act of gaining attention, the real work must emanate from a shift of consciousness within awakening people. For me it's all about how we live our lives from day-to-day. Blaming the 'other side' is not really going to achieve anything, the risk is to disempower ourselves by taking on a victim mentality... "we are the people being poorly done to".
Let's be clear about this: WE have the power to change society by internally shifting to a higher consciousness AND THEN, choosing to make all our choices from that higher harmony. So if you don't like corporate greed, we can stop feeding it by our own consumption. Let's choose instead to shop and buy as much as possible from local, small business sources. Let's fuel local economies that stop bleeding the local resources to the boards and shareholders of large corporations who have no real interest in the equality of community.
For me, the positive side of the Occupy Movement is that it's causing people to contemplate this higher consciousness way. Most importantly it's showing the world that people are no longer 'content' for society to continue in its inequitable ways and that increasingly people are prepared to do something about it. It's causing the awakening movement to be more proactive. And to me, that's exactly what these latest developments in New York could inspire...
The irony is, this is actually not about occupying one particular physical space at all. It simply doesn't matter if it's Wall Street or Wall Mart. It's all about energy. The outer world is simply a metaphor for the inner. No one can occupy your inner thoughts and feelings but you. So perhaps the time has come to evict the old consciousness from your world and take in a new tenant?
Personally, I feel the energy of the Renewed World like a vast ocean of consciousness above my crown. It has a softer, lighter, more vibrant and connected feel. I get the sense of deep peace and liberation with it. If my attention is on it, then I can draw it down through my body and into my world. I notice it begins to have a positive effect on all those who are open to it.
I also notice that if I spend too much attention directed into the old consciousness and the old 'Matrixy' ways of living and doing things, then that bubble of energy starts to dissipate...
I have to keep softening internally
and bringing attention to that sense of lightness.
This then must inspire every thought and action.
Of course it is not easy. The Matrix has its preprogrammed ways geared to pull us out of this vibration - or perhaps more appropriately... pull this vibration out of us! That's why we each have a choice as to where we place our consciousness, our attention. The Matrix cannot own our inner world if we don't let it. We can choose to soften internally and allow the new consciousness to be a daily part of our lives.
But it is a choice. The new more equitable harmony doesn't happen simply of its own accord. And it won't happen just by protesting or allowing others to do that for us. It's going to happen when we truly occupy the one space that really matters: our own internal one.
So we can each be inspired by the Occupy Movement. We can first occupy ourselves and then watch that new consciousness flow outwards until it occupies everywhere!
Chris
PS: Thanks to an Openhander (David Rotter in Germany), I came across this wonderful interview which captures what for me is the 'very best' of what the Occupy Movement is all about. Be inspired...