Submitted by Trinity on 1 March, 2017 - 18:42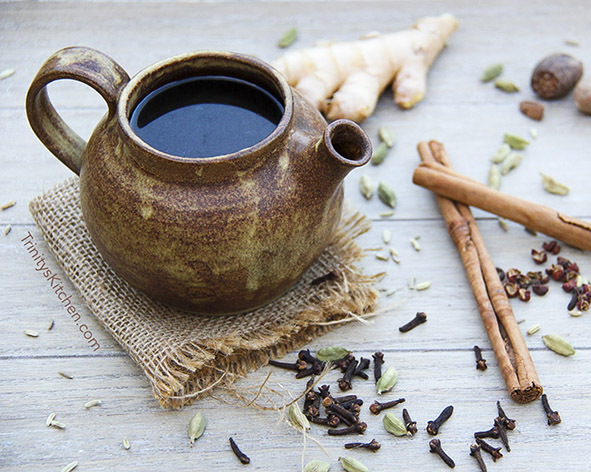 Let's talk about Masala Chai!
Chai actual means tea. Masala means spices. Easy.
People adore the fragrant, soul-nurturing infusion of a good chai that permeates to the core. It can warm you up in the depths of winter, keeping you bright in the summer. It ensures that your mind stays sharp whilst imparting a relaxed sense of spiritual wellness... no wonder it is so popular. The idea here is to use a heart-warming medley of warming spices, that want to dance and entwine together, becoming an delightful feast for all of the senses.
Connecting with the sacred essence of each spice
You can admittedly buy masala chai in a pre-made teabag - however, it's so rewarding and soulful to make your own. You can create a unique blend that really stirs your soul. The whole process can become a spiritual experience as you connect with the sacred essence of each spice.
Brimming with health benefits
Masala Chai is brimming with health benefits. It improves digestion, balances the emotions, enhances the immune system, reduces inflammation and is fully of antioxidants. I talk more about the individual health benefits of each spice in the following video.
My Masala Chai Video (with health benefits & tutorial)
Rooibos is caffeine free
I am using rooibos tea in this recipe because it is caffeine free. It traditionally comes from South Africa and is now widely available in health food stores and good supermarkets. Rooibos (also known as Red Bush) has a delicious flavour. You could also use green tea, white tea or regular black tea in its place if you don't mind the caffeine.
OK let's do this...
Ingredients
6 cups of water
20 cardamom pods
1/2 teaspoon peppercorns
1 heaped teaspoon fennel
1/2 teaspoon cloves
1/2 cinnamon stick
1 teaspoon ginger (freshly grated)
1/2 teaspoon nutmeg(freshly grated)
1 teaspoon rooibos tea
1 tablespoon coconut sugar
See my video above for a helpful tutorial first!
Crush cardamom pods, pepper corns, fennel and cloves using a heavy pestle & mortar. (Note: If you don't have a good pestle and mortar try a different method by first removing the skins off the cardamom; getting a large chopping board and a sharp heavy knife; and then repeatedly chopping over and over again these spices).
Break up the cinnamon stick.
Finely grate the ginger (skin removed).
Finely grate the nutmeg.
Add the rooibos tea and coconut sugar.
Bring pan, with all ingredients added, to the boil and then allow to simmer for 20 minutes. It's ready to drink. Strain with a tea strainer and enjoy immediately. Alternatively allow it to keep infusing and reheat whenever you want it. This will last for days. Simply store in a glass container in the fridge and reheat when required.
I hope that you enjoy this as much as we do here!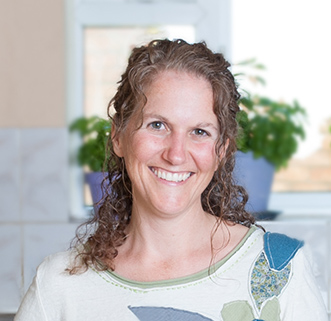 22 years ago Trinity had a profound spiritual awakening that interconnected her with the deeper consciousness of life. What followed was a journey of compassion for all sentient beings, and a passion to share conscious eating for the benefit of all. Trinity is the Openhand retreat chef and recently published two recipe books: Trinity's Conscious Kitchen & Angelicious - Food for a New Paradigm.
Find Trinity here on www.Openhandweb.org, and here:
Trinity's Conscious Kitchen Website