New Openhand Base, La Palma: "Love Lift us Up"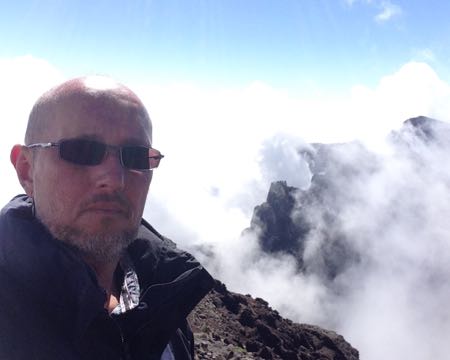 I'm heading back to the UK now, to begin a five week World Tour taking in Avalon, Australia, Hawaii and North West USA. In my final few days here on La Palma, I've been given an extraordinary run around by "Grey" Opposing Consciousness. It seems they'd found their way out here via some form of channel. And so I was finding it extremely hard to secure a new base for Openhand to work here - every property I looked at, was being snapped up, right in front of my nose. Yet it was clear in my heart I was meant to be here. So, an extraordinary situation required extraordinary measures to nullify the intervention: something I'm given to call the "Top Gun". This sharing is quite deep, multidimenisonal, and 'out-there'. But I felt to share it so as to encourage others to open your channels further to multidimensional creativity. With that in mind, here goes...
Etheric space travel
When you're beyond the confines of a physical body, then movement through the ether can be extremely fast and direct. In 1973, the psychic Ingo Swann 'traveled' to Jupiter and reported it had rings around it like Saturn, only to be ridiculed by the mainstream science community. That was until the space probe Voyager traveled there 6yrs later in 1979 and actually photographed them! Those who were a part of the experiment when he did it, said it took only a matter of minutes to travel there. And so it is, when you're able to open such a channel. Space is no distance at all.
La Palma is a very special place, of that there is no doubt. The vibe is clear and high. The Basalt rock, of which most of the island is made - the remnants of an ancient Volcano - is an extremely good harnessor and conductor of energy. La Palma is quite removed from the matrix, and has been hardly ravaged by it at all - probably due to its extreme volcanic topography, difficulty on which to build, and it's challenging accessibility; not to mention it's black beaches - apparently tourists only like golden ones (stereo-typicality has its advantages!). Not to mention that you can grow food here all the year round, and the skies are so clear, it's become one of the prominent star observatories on the planet.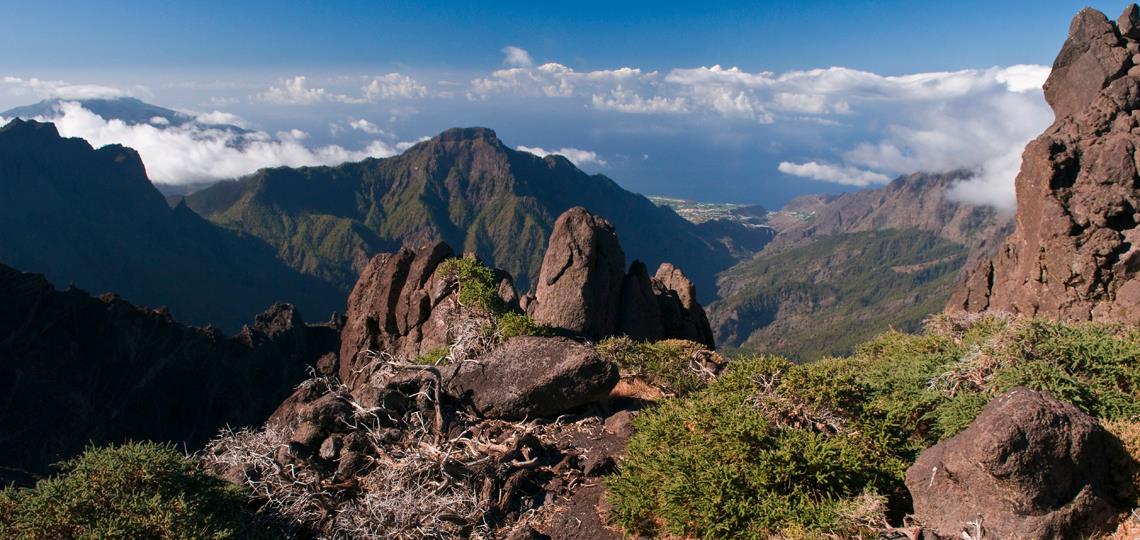 Although stunning in its beauty, I had no intention to stay here; it has all just happened in the flow. Literally following the steps moment by moment, as I'm frequently speaking of here on Openhandweb, beingness led me to this magical "La Isla Bonita", which I've now fallen completely in love with. But yes, if I was to stay, something had to be done about that pesky intervention.
The Top Gun
The last property I visited, with the serious feeling of securing, felt really great, especially when, as I approached, there was a ubiquitous Kestrel hovering right over the building. Yet all didn't feel so well as I pulled up to the gates. There was a definite buzzing in my head, which I have come to associate with the presence of Greys in the field around me.
Synchronistically, the number of the villa was 16, which jumped right out at me and spiked in my consciousness. 16 is the mythological number of Osiris, the Egyptian God, whom you can witness in the night sky as 'the hunter', his belt encompassing the constellation of Orion. The Greys were definitely in play. But I was thinking 'what about the kestrel?'. And then I got it: in the landing of a higher mind knowing, coming from benevolent higher guidance - I needed to shake off my malevolent etheric tail by the application of a "Top Gun" manouvre. Okay, so it's a light-hearted, tongue-in-cheek name, but there's nothing wrong with some fun and passion in the creative process - why should spirituality have to be boring! I'll be teaching the technique on the Facilitator Program (together with the "Crazy Ivan" and the "Googlie") as means to nullify the interfering effects of OC. Basically, OC doesn't like spontaneity - only controlled predictability. It likes to shape and control the flow for everyone (hence the matrix). So in this manouvre, put simply: you're flowing with authentic creative action, but when you get the sense something is purposefully preventing you from manifesting, the "Top Gun" is where you 'jam on the air brakes' in mid flight - you suddenly stop creating and OC flies right past you (yes it's taken from the film of the same name!).
In the days that followed, a couple more properties showed up, which I was given to show only passing interest to. The play was confirmed in the very next Villa, no 7 (a number which tends to feel good) but called "La Era", which jumped out to me as "The Error" (an intentional one). Each of which was also snapped up pretty much immediately. Even though I'd pulled the Top Gun, I can tell you I was getting a touch concerned - I felt to secure something before disappearing on tour, because it would be important to the creation of future projects. Time was running out - what to do next?
Creating a relieving Energy Portal
A trip up to the Volcano came strongly into my consciousness, where we shot Openhand's latest film: Expanding Your Consciousness in the Great 5D Shift. As I wove my way up the winding approach road, I could feel all was not well. Usually its vibration is completely expansive, readily opening you up to peaceful higher vibes. This time however, as I got closer to the summit, my head was getting ever tighter until tightening pains were shooting across my forehead and pressurising my temples. At times I found myself almost driving off the road, the intensity was that strong. It became obvious: the whole area was occupied by a fleet of greys.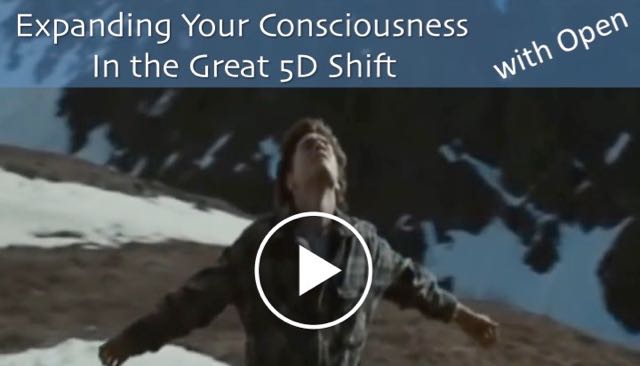 It's clear, that's why the pull had taken me there - to connect, open a channel, and create a higher dimensional portal to remove them. So upon arrival, I quickly located the right spot and went into deep meditation. It wasn't long before the channel had been opened that I could communicate with this particular group. Once they'd realised my consciousness was beyond their controlling influence, then I was able to talk back to them, and suggest it would in their better interests to surrender back to the usual cycle of reincarnation. I had to travel with them; show them images of their tragic past; reflect to them what they'd now become; and above all, forgive them for the traumatic intervention they'd been responsible for.
I could feel them softening. So i went into my heart, and opened a channel up into the angelic realm. Slowly but surely they began to move across the bridge, shedding their limiting 'energy suits' in the process (see Liberation of the Greys). Synchronistically, when I opened my eyes about an hour later, grey mist was ascending up the mountain, engulfing the whole of it, before disappearing higher up in the skies above. I always look for some physical confirmation of the etheric work before being sure it is complete - I'm seldom, if ever, not answered.
In the days that followed the work, strong winds swept over the island, which most definitely felt very cleansing. But what about a base?
Sum of Our Parts
On the very last day, out following the pull (as always), I was guided back to the villa above which I'd seen the kestrel hovering. I was thinking...'But what about the number 16?'. It's never been a number I particularly felt good about (for obvious reasons!). But as I arrived at the property, my ipod on shuffle just happened to select a song by Pink Floyd on their album "Endless River" and the words "Sum of our Parts" spiked so strong in my field, I almost swerved off the road.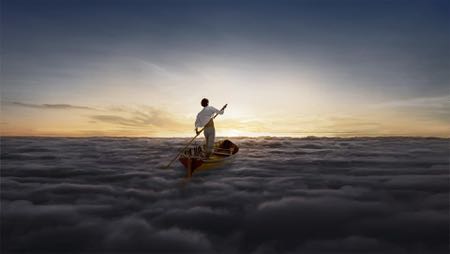 "Sum of our Parts", I knew, referred to the story of Osiris. Who suffered what might be termed 'a controlling intervention' by his brother Seth in ancient Egyptian Mythology. Separated onto 16 parts, his body was then spread to the many corners of the Kingdom. But Isis, his grieving goddess wife, set about finding the parts and reconstructing her divine partner. "Sum of the Parts" meant, to me, everything coming together. And if you add 1+6, you get of course 7, which also represents the ray 7 of divine magic, weaving the flow together to provide resource and support. These realisations all landed finally, as I arrived at the villa's gate. And as I did so, the current tenant of the house stepped synchronistically into the yard.
We began a most lovely chat in German. A very heart-warming connection. I was reminded it is NEVER about the outcome, but always about how you're being in the creative process. The guy invited me in, and a lovely sharing took place about his path and the spiritual journey. Only after which, I discovered they were moving out at the end of March, and the villa would be available at the beginning of April, exactly when we needed it. The rest you can imagine is history. The "Top Gun" had worked, the intervention had passed right by, in a strategic place called, wait for it... "El Paso." You just couldn't make this stuff up!
Up where we Belong
So, Openhand has a new base in El Paso, La Palma. And when I return from the tour, Rich, the Openhand webmaster, will be joining me there to rebuild the website and develop the "Great 5D Shift Project", to be released some time down the line. La Palma now feels like home. And in due course, we'll be inviting people from the Openhand community out to join us, to explore and raise their vibe here. Plus also, it'll be the place, to which I know, I'm given to ground Openhand's multidimensional bridge to support the Great Shift, which people will be able to tune into from all over the world. Indeed you can get a taster of that energy right now, on the upcoming World Tour I've mentioned:
Finally, this beautifully poignant song came to me on Spanish Radio as I departed for the airport. "Love lift us up where we belong". Yes indeed...
See you down the line. Open *OK*
3261 Reads