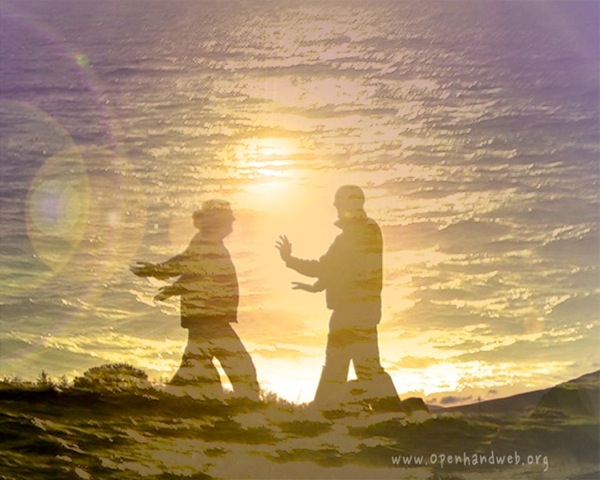 Finding the harmony between the divine masculine and feminine
Here at Openhand we frequently speak of the importance of internally non efforting to unfold the authentic way of life we are meant to live. So how does this philosophy relate to purpose? Can purpose be achieved effortlessly? How can we be relaxed, open and expanded even when we experience the strong pull to do something?...
When we are following the pull of the soul in our lives then we are responding to our life's authentic purpose - the reason we came here. At the point we sense the pull to act however, comes the greatest risk to achieving that purpose.
In order to achieve something, the soul's attunement must translate into action within the bodymind. Thought must be sparked, muscle tension ignited and the emotions must flow - otherwise there can be no purposeful action. It is the blend of all that yields authentic manifestation.
In this soul attunement, if we apply too much tension and effort to what we do however, then we tend to slip out of this divine alignment. And the more we get used to the resultant tightness in our lives, the harder it becomes to feel the soul at all - then true purpose is lost to the influence of society's ideas, beliefs and conditioning. We end up instead trying to manifest our desires and our tightness locks us into that false reality.
So what is the way out of this?
This is where harmony comes in. Every action has a natural harmony. When we open a door handle, grip and turn a steering wheel, undo the button on a shirt - all actions have natural harmony, rhythm and flow. The key is to find that harmony in every moment. How do we do this?
Put simplistically and very effectively, we can achieve a great deal by learning to balance the energies of purpose and surrender. The energy of purpose is the "Warrior" energy and that of surrender the "Divine feminine" energy.
The concept of authentic Warrior energy is frequently misunderstood. It is not about fighting - fighting and control are distortions of it. Warrior energy is that which initiates the driving impetus to unfold purpose; to be committed and creative. Which is why of course, it is also the diving energy behind sexual intimacy.
To truly manifest creativity and purpose however, we must be completely in tune with the natural energy, rhythm and flow of the moment. This requires great sensitivity which in itself requires a high level of surrender and this is where the divine feminine comes in.
We can unfold this energy by going into the absolute centre of each activity asking ourselves "how can I do this lighter, softer and more rhythmically? What is the natural flow of this moment?"
If we can attune to this natural harmony by being completely attentive and feeling how light we can achieve our sense of purpose, then we will achieve true surrender within the movement. When we do this, we are able to be light, soft and surrendered and in so doing, stay attuned to the etheric softness of the soul even in the hardness of life. In other words, we don't lose the flow even amidst our most intense creativity.
In this way, life becomes effortless even when we have purpose.
Open
12626 Reads