Submitted by Chris Bourne on 11 July, 2012 - 05:41
Hello friends,
If you can make it, we'd like to invite you to Glastonbury Town Hall on August 29th at 7pm for a very special evening. Life on this planet has begun to change as the global shift in consciousness unwinds the very fabric of society. What's your deepest heart's yearning? What are you most afraid of? What on EARTH is really going on? By finding crystal clear clarity of consciousness, we can each become more effective channels for change. It's not about telling you your truth, it's about facilitating a more evolved authentic expression. Come share your feelings with Chris or simply watch, listen and unfold...
Plenty to contemplate
I have plenty of new material to bring to your awareness, to spark thought, feeling and emotion. I can practically guarantee you will be deeply moved by something I have to share.
In general I'll be talking about these key subjects:
Confronting death, so that we may loose our fear of living
Why society is certain to collapse and why it has already begun
What exactly is the matrix and how to unplug from it
What does it really mean to be 'walking the spiritual path'
How the sixth mass extinction on our planet has already begun
The intervention of Humanity's journey by an Alien Consciousness
How to process our collective karma and realign with the universe
Why the cleansing of Gaia is necessary for all of us
What we can do to become a true energetic channel for change
Fed up of being spoken at?
It's often the case that we go to a seminar or presentation and simply receive the opinion and ideas of the person presenting. If the presenter is reasonably tuned into what's going on and can share emotively, then great, it's likely to be an interesting evening.
But this time, if I can, I would like to achieve more than that.
In the space of 2hrs, I would like to catalyse something within you - for your consciousness to shift - for keys to be found and doors to be opened. How do I propose to do this?
Well I know in my heart, the only truly effective way, is to engage with someone where they are at. It's simply no use denying what is within and papering over with some new idea - no matter how enlightened it may appear to be.
I want to connect with you at the level of what's bubbling for you now.
I want to hear your fears about the future and encourage you to express them.
I want to challenge hopes and desires that might be founded on illusions.
In short, I want to get quickly to the heart of your truth, as it is, right now.
I intend to do so compassionately, to accept you totally as you are,
to honour and respect your truth, to embrace what you feel is real, right now.
Positive Living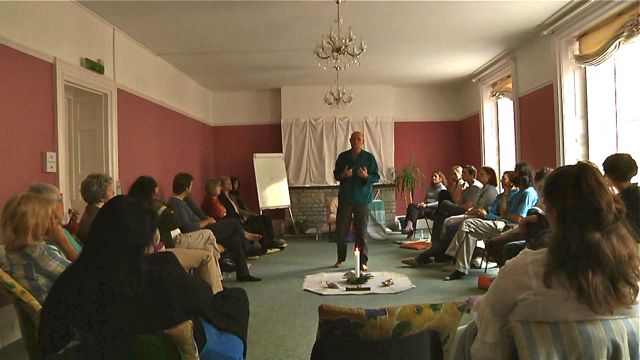 The evening is being organised in conjunction with Glastonbury Positive Living:
Venue: Glastonbury Town Hall
Doors Open: 7pm, Exchanges begin 7:30pm
Cost: £5 on the door (includes refreshments)
Do please tell your friends/inform your network. And if you can't be there, we'll be filming clips from it to add to our growing "Ascension Exchanges" library.
The time is now. There is no other time.
Chris
If you want to support us, please like/share on fb:
Clips from previous exchanges: