Submitted by Trinity on 3 December, 2016 - 07:32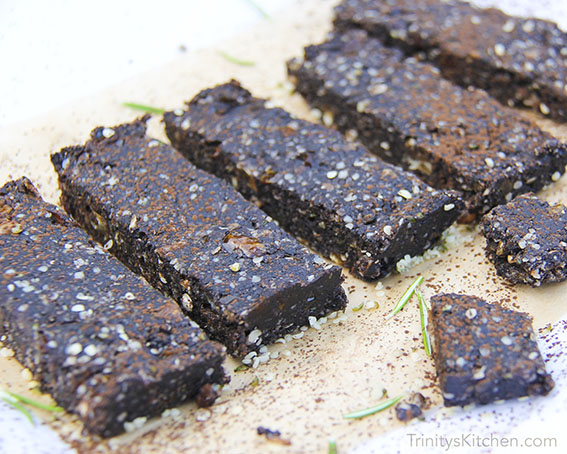 Less is so often more. I am amazed at how five simple ingredients can dance together to create cosmic alchemy in the kitchen. Today's no-bake Carob Cosmos Bars are naturally vegan, gluten-free and without refined sugar, as you would expect from Trinity's Conscious Kitchen. They are energizing, and delicious endowed with super healthy ingredients. They don't take long at all to make and they offer us the opportunity to really connect with the energy of our food that we take into our bodies; which in turn is very beneficial for the soul!
Carob Cosmos Bar Video
Come join me in my kitchen. Here's a quick video tutorial on how to make them...
https://www.youtube.com/watch?v=jNBzy9DbjXE
Carob offers an excellent alternative to cacao or chocolate
Unlike cacao, carob is free from caffeine. This makes it an excellent alternative to cacao or chocolate. Carob is also high in protein, full of nutrients and quite abundant in antioxidants. I've found a couple of different types of carob out there. One is lighter and sweeter, whilst the other is darker with a slight bitter hit. I like both and use them interchangeably. Carob is available in any good health food store. Use whatever you have available to you and experiment.
Dates are the ultimate wholefood sweetener
Dates offer an abundance of gifts. Not only do they make a delicious natural sweetener, they also work as the perfect binder for recipes like this. Unlike refined sugar, this natural sweetener is chock-full of nutrients that are really beneficial for our health. With alternatives like dates, I've not needed to use refined sugar for the best part of 20 years. Hi fives for dates!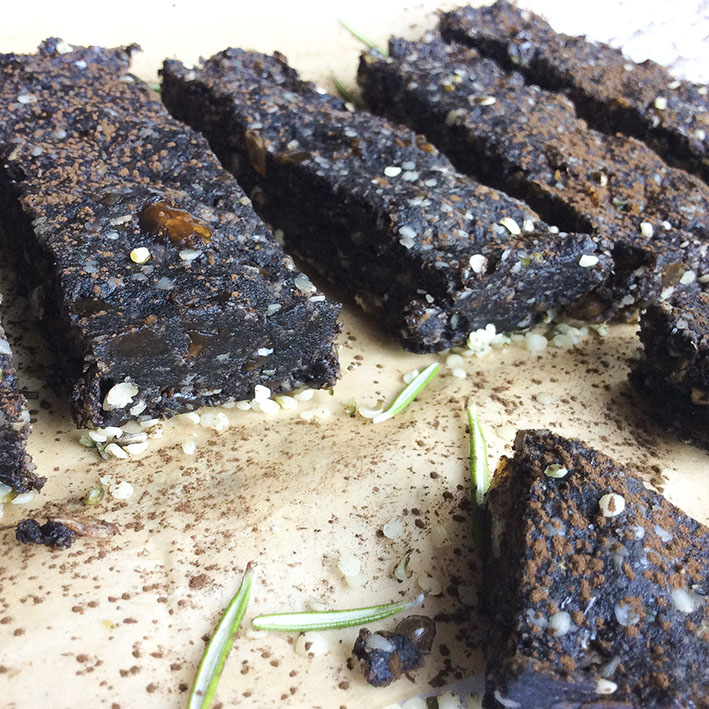 What else?
Well, not much else! But the other three ingredients make for a delicious medley of texture, flavour and nutritional goodness. I've added ground almonds for their natural delicious flavour. Shelled hempseeds for their superstar healthy profile, for that pleasant nutty taste and also, quite importantly, that comos effect they make, scattering themselves through the bars like little twinkling stars in the night sky. A touch of vanilla adds a little dance of delectablness too.
Let's hear it for Carob Cosmos Bars...
Preparation Time: 5 to 10 minutes
Makes: 6 bars
Ingredients
100g (1 cup) dates
75g (3/4 cup) ground almonds
25g (4 tablespoons) shelled hempseeds
2 tablespoons carob powder
1 teaspoon vanilla extract
If your dates aren't already soft and slightly squishy to the touch, then you'll need to soak dates ahead of time for 30 minutes. Soak and then thoroughly drain off the water. [b]Note:[/b] [i]If you don't have a food processor and want to make this with a hand blender, then I might suggest soaking your dates for longer, for about an hour (but bear in mind, your bars might end up a tiny bit softer that you want, in which case adding back in some extra ground almonds at the end might help. Play with it.[/i]
Blend all ingredients in a food processor, until everything is mostly broken down. A few rustic chunks are fine. It should hold together nicely if you squeeze some of the mixture between your finger tips.
Line a loaf tin (or similar sized container) with parchment paper and compact the mixture down really firmly. Taking time to make sure it is pressed down to allow it all to hold together. This might take a minute or two and is quite an important stage to make sure you get firm bars rather than crumbly bars.
Pop it in the fridge for about half an hour to let it firm up some more before chopping into bars.
Please check out my video for a quick tutorial on this recipe.
I do hope that you enjoy this as much as we do here. If you like it, then you'll love my latest book Angelicious which is full of inspiring ideas for consciouness raising cuisine...
Please do let me know how you get on with this recipe and feel free to ask if you have any questions. Original recipe here: http://www.trinityskitchen.com/carob-cosmos-bars-with-hemp-no-bake-vegan...
with love
Trinity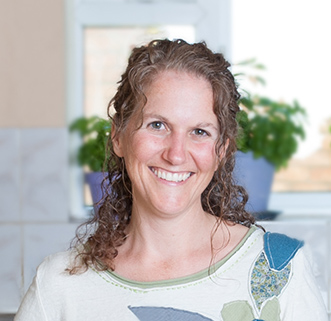 21 years ago Trinity had a profound spiritual awakening that interconnected her with the deeper consciousness of life. What followed was a journey of compassion for all sentient beings, and a passion to share conscious eating for the benefit of all. Trinity is an integral part of the Openhand Core Team, supporting with the philosophy development, energy processing, publication of book and film, and is also the Openhand retreat chef.
Trinity recently published two recipe books with Openhand Press: Trinity's Conscious Kitchen & Angelicious - Food for a New Paradigm.
Find Trinity here on www.Openhandweb.org, and here:
Trinity's Conscious Kitchen Website