Submitted by Chris Bourne on 11 April, 2011 - 14:02
All creatures (of the earth), great and small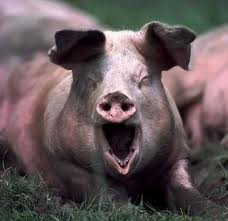 Recently we had quite a debate in our forum about how eating animals influences and affects our spirituality. Gauging by the response, it was clearly a very emotive subject. At the time though, we weren't aware of a documentary called "Earthlings", which is potentially the most comprehensive visual account of the society's incredibly inhumane treatment of animals. As I watched, it was not the occasional brutality by the odd misguided person which really disturbed me. What shocked me most, was the wholesale brutality of the industrial food production line, operating 24/7 in all corners of the globe. Although the film is a sickening indictment to the bankruptcy of society's moral foundations, we felt it vitally important to share. In this revolution of consciousness, our greatest possibility for collective evolution, is to shine the light into all the darkened recesses where ignorance hides...
Harrowing but enlightening film
Although I suspected the film would be deeply harrowing before even seeing it, I felt it was my duty to watch, be motivated into personal action and then share with others who might do the same. It is important to remember that to be truly enlightened, is to be enlightened by all things.
Do you have the courage to truly confront an inconvenient truth, no matter how unpalatable, and then do something about it? Here at Openhand we truly believe a more harmonious way exists where we live in harmony with all animals in self sustaining local communities. It may at times seem a long way off, but as increasingly more material like this comes to light, increasingly more of us will inevitably turn our backs on this defunct system which is long past its sell-by-date.
Below is the short trailer followed by the full 95 minute documentary. Following which, you might be further interested in our forum inquiry and to share further with others...
A contemplation on the spirituality of veganism
Thankyou for your courage, your light and your support...
Here's the trailer and the full documentary...
The Openhand Team