Submitted by Chris Bourne on 13 April, 2010 - 17:30
NOW OUT OF STOCK - SECOND EDITION DUE SEPTEMBER 2015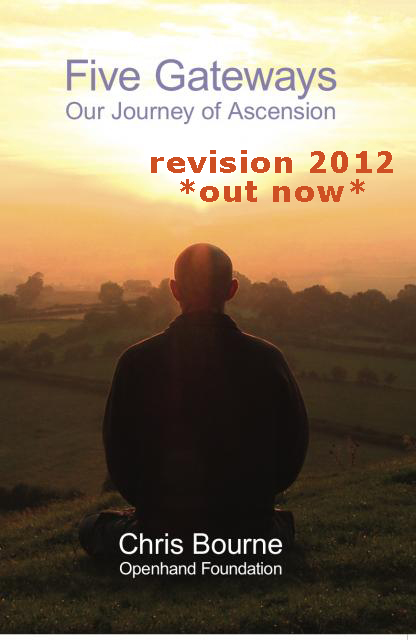 As the very fabric of society crumbles around us, people in all walks of life everywhere are waking up and questioning the very nature of reality. A higher vibrational paradigm beckons us based on unconditional love, joy and mutual respect for all life. The question is, how do we join it?
There are many ways up the 'spiritual mountain', for each of us there is a unique path. Yet those who have climbed before us often speak of five key expansions, five key 'altitudes' through which we all tend to pass. It is a common journey that has been established by spiritual masters through the ages.
Whatever spiritual approach you've been using, Five Gateways has the capacity to connect the threads of commonality between all evolving people, to catalyse and focus our collective shift in consciousness. It can inspire a united sense of purpose and destiny. The time is now. There is no other time!


Book features:
An insightful, age-old and priceless route-map helping make sense of how and why our lives are shaping as they are
An indepth exploration of the current chapter in human spiritual evolution from many direct personal experiences
A comprehensive pallet of tools, tips and advice for dealing with energy blockages, conditioned behaviours and karma
Ways of catalysing your evolution including meditation techniques, self realisation approaches and kundalini activation
Crystal clear, higher consciousness insight into the way forwards for humanity through these times of profound change
Preview the book and inquire deeper...
SPECIAL OFFER: Paperback £5:00 ebook £2.50...BUY HERE
Please Note: All revenues will go to the Openhand Foundation - a not for profit organisation dedicated to our spiritual evolution.
Reviews:
"Intellectually stimulating, personality provoking, a must read for serious spiritual seekers everywhere. The magnitude of its impact lies in Bourne's unique ability to understand and convey esoteric knowledge as a demystified, practical application for daily living in the 21st century. Those who take the time to absorb the depth of the message, will be launched down their spiritual path like a comet." - Lesley
"My dear friend, I have Chris' book and it sums up everything I believe and have come to know. His unique, sacred point of view is wonderful, his writing accessible and his knowing, I believe is true, true, true. I have added the book to my recommended reading and I shall be telling all my like-minded friends about it as essential reading for anyone on the path. thank you so much. with love and blessings." - Veronika
"This is a truly outstanding piece of work. It details very powerfully our journey of spiritual awakening but in a way I've not seen done before. By relating our journey to five particular transitions, it's been possible for me to see exactly where I am at and why I'm experiencing the things I am in my life. Everyone who considers themselves on a spiritual pathway should read this!" - David
About the author: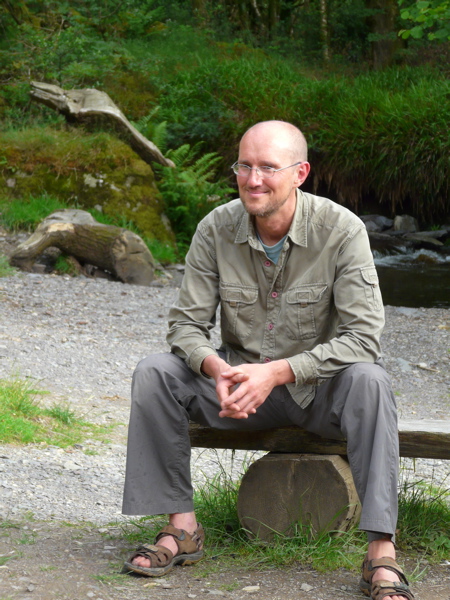 Open (Chris Bourne): I am a Higher Dimensional Catalyst. I 'walked-into' this incarnation back in 2002 around the circumstances of a life threatening car crash. With the previous soul I had a sacred agreement that I would help fulfill his destiny of Ascension and move on. In so doing, we established the Five Gateways route map to benefit others in their spiritual evolution. In return, I have had a full familiarisation as to the complex and challenging situation Humanity faces right now here on Earth. It has prepared me to assist in the catalytic shift of consciousness.
My soul is now centred in the higher dimensions where I find myself in communion with a benevolent presence acting through the weave of life which I call "Openhand". Working with this energy through the field, means I can energetically highlight blockages, help dissolve karma and activate beingness within people simply by sitting in meditative communion with them. It's a divine gift that fills my heart and inspires the Openhand work.