Submitted by Open on 15 May, 2015 - 05:56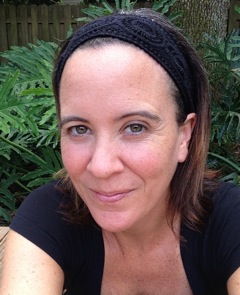 Biography
It is my passion to live from a place of authenticity, to know the depths of who I am and to express that into the world in every moment. It is not an easy journey, but it is the only one that fuels the fire within me. My journey has been one of uncovering the truth of who I am, by working with what is being shown to me in my daily life, by feeling into the depth of the fear, the contractions, the worry, the pain and coming to the point that it does not define me. It is then, in the expression of the truth of who we are in our daily life, that the soul can fully sing it's true song. With a busy life raising three young children, I know the importance of integrating spirituality into every moment, of seeing and feeling into the constant mirrors that are presented in our daily lives and of living our highest truth here in every aspect of life. At the same time I am deeply sensitive and feel the energy of those around me, so I have learned how essential it is to give ourselves space, time to commune in nature, to feel deeply into who we are. Openhand is a constant source of inspiration, guidance and support that has constantly pointed to the journey within myself and now inspires me to share with others.
I offer one-on-one facilitation sessions during which we connect and explore in an open and safe space. The session unfolds organically and sensitively follows the flow of what is arising for you in the moment. It is a great joy for me to connect with others in this way and I have found one on one facilitation sessions to be a powerful catalyst on the journey. With the use of meditation and soul inspired music and movement we can tune deeply into feeling. Intuition strongly guides these sessions and inspires intuitive questions to explore the places that may be holding you back. We have this innate beauty, these amazing gifts, that are just waiting to be uncovered, to shine forth fully into this world. These gifts are often held hostage by our conditioning, our fears, our distortions. However, if we can get into the distortion, feel into it completely, we can then unveil the gift and uncover a new way of being that is an expression of the soul. If you resonate with what I have shared, then perhaps I can offer you a mirror, which can lead you to find your own answers, to see your own way through, to self-realize and shine forth more of who you are.
Pricing and Contact
I live in Palm Harbor, Florida, USA and am happy to meet people in person or be in contact via the phone or skype. I can be contacted via email at stewii@tampabay.rr.com.
I suggest a payment of $65 for a 60-90 minute session, however discounts are available so don't let cost be a deterrent.
Stage 2 Facilitator:
Jen has been involved with the Openhand work for some years now, and always with an infectious enthusiasm and unwavering commitment. From the word 'go', she's been ready and willing to dive into the density, be open and honest about it, then to courageously work with it. It's this approach that always ignites acceleration on the path, and has quickly revealed her outstanding ability as a heightened empath. Her increased sensitivity means that she can feel into other people's blockages, direct attention to them, such that people can readily work into them. It's a profound gift that can truly accelerate people on the path.