Submitted by TeamOpenhand on 7 January, 2016 - 16:39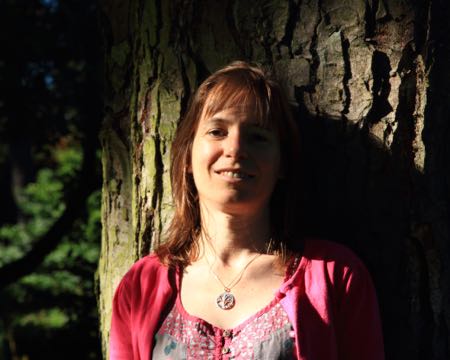 For much of my life I felt different – out of place. I spent many years searching, knowing that that there was more... a greater energy and benevolent flow at work in the Universe than the majority were unaware of. Gradually, I discovered my truth, it was inside me all along, mirrored by the outer circumstances of my life and angelic guidance. I realised the immense importance of following the path of our own inner truth and expressing from the soul. Life is about self discovery and the challenges we face, enable us to find our true selves and Presence beyond all experience.
My journey with Openhand
Openhand has been an invaluable support on this journey of self-realisation. I first met Open in 2005, when I found myself being the only participant on an Openhand course! It was deeply transformative and I have been increasingly involved with Openhand since that time. In 2010 I spent a year working and living with the Openhand community. I returned to Avalon Rising (Openhand's Retreat Centre) in Summer 2015 and what a delightful gift that has been.
It is a huge honour and blessing to be part of the Openhand Team, I continually experience and witness in others how profound and immensely empowering the Openhand work can be. It is an absolute joy to be house manager at Avalon Rising and to connect with all the wonderful Openhanders that engage with us or come to participate on courses and Personal Retreats. It brings me huge delight to put loving energy and care into the beautiful house and gardens and share it with those who visit.
Gifts and experience I have to share
I am passionate about living true to my heart and soul, encouraging others to uncover and express their own power and beauty. Embracing the gifts of being a sensitive empath, enables me to support others on their path. I sense energy and blockages in others and in the field and can support in the letting go of that which is ready to be released. I am an Openhand Facilitator, have a degree in psychology and a certificate in counselling, though many of my gifts have naturally unfolded and developed through life's wondrous experiences.
I have been practising reflexology (http://www.fionareilly.co.uk/reflexology1.html) for over 10 years now, and I am continually amazed at how it positively impacts on people and assists in their rebalancing and unfolding.
As an experienced birth and postnatal doula, I know the empowerment, love and beauty that can be experienced through birth. I also know the pain that can occur when a birth experience is traumatic, and have had related karmic experiences. Being present as new life enters the world is an absolute delight and huge privilege as I witness the power and strength of women and the love of those around them. Additionally, I have a particular interest in women's issues and feel that women (or groups of men) sharing together can be profoundly healing.
Expression of my soul
The expression of my own soul and beingness is of huge importance, I love to connect with nature, to sing, to participate in conscious movement and be creative. I love new challenges and it's fantastic to be in a place where every day is different and brings new aspects of beingness to explore and express.
My personal website is: www.fionareilly.co.uk
And my facebook page is: https://www.facebook.com/truelivingfr45/?fref=ts
I leave you with one of my favourite Rumi quotes...
"Seek not for love, rather to remove the blocks to the awareness of love's presence"
As the new Openhand Community Manager, I very much look forwards to connecting with many of you in due course. It will be my pleasure,
Fiona
Contact: fiona@openhandweb.org