Submitted by Open on 10 August, 2017 - 07:06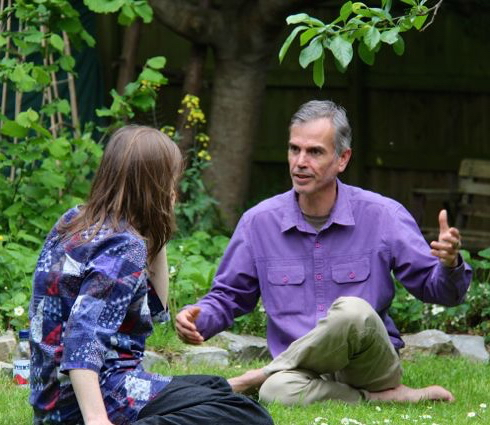 Biog
Since an early age, I have always felt I was not configured like so many around me. This complex Soul journey started after a near death experience at the age of 5, in Uganda, East Africa. It has been a passionate mission integrating the experience since then. It has often been tough to be feeling empathic/sensitive/intuitive /very psychic, but completely misunderstood, and often out cast by the outer world. This deep pain catalyzed a myriad of explorations and experiments through the years to find who I truly am: practices like Yoga, Reiki, Watsu, Thai massage, Quantum touch & deep Journeys around the globe.
7 other near death experiences have paved this path with incredible, out of the ordinary & magical Soul infusions. Each seemed to carry the High Benevolent signature of loving support: passions rebooted; unveiling progressively the mystery of this unique path, like a jigsaw being put together. It's when I found Openhand in early 2012, that all those unique events could start to deeply make sense. Within a short period of time, the real Catalyst within has re-activated and increased a deep sense of Empathy for all sentient life & the ones in need around me.
Following my inner passions have always felt like what mattered most in this dense world, regardless of what might happen next. We are at a crucial point with our planetary evolution and many out there are starting to feel it. Knowing how difficult it is to surf those complex waves of old & new consciousness, my mission is to facilitate difficult transitions for others in need. It requires a deep sense of empathy coupled with a strong catalytic presence, sensitivity, flexibility, creativity, innovation, a certain sense of humor, and a sheer passion for the evolution of all life. That's my commitment to the facilitation work.
My Service to you:
My main alchemical talent is that of a catalyst. I can readily attune to another Soul's energetic field and open up a safe empathic space for them. I use a wide range of transformative tools such as open questions/ Kriya yoga breathing/reiki/Soulmotion movements & dance/thai massage/working with trees & nature/music and dolphin like humor as well. I truly love what I came to embrace and activate & provide to the world.
Specifically, I have been invited to provide the rightful support to those experiencing:
Restlessness & stress due to sudden tough life changes
Lack of motivation for life
Emotional & relational turmoil due to the planetary shift (rage/anger/blame/guilt)
Feeling outcast, undermined or rejected
Hitting the same old life limiting patterns
The sense of not belonging here and its challenges & the feeling of separation & disconnection
Physical pain without any logical root cause.
Location, contact & Pricing:
I live just 30 kms south of Brussels, in the french speaking part of Belgium. I created the Dolphin room where sessions are offered.
Sessions can also be conducted through skype - In English or in French if needed.
Each session will last from 1h15 to 1h30 minutes. I charge 65 Euros but I keep an open door to any request allowing the right energetic exchange if the initial pricing is unaffordable for you. There is always a way.
e-mail: bluehopi3@yahoo.fr
Facebook : https://www.facebook.com/Tucson1967
Openhand stage 1 facilitator
Jean has worked with Openhand for several years now. It's clear he's had very rich, colourful and at times, dramatically challenging experiences on the path - from an early age. He has strong starsoul connections, particularly the Plaiedes, and is a close reader of the flow through signs and synchronicity. With a carefully caring, compassionate and empathic nature, you'll be well looked after in any facilitation session... Open.