Submitted by Open on 1 February, 2014 - 07:26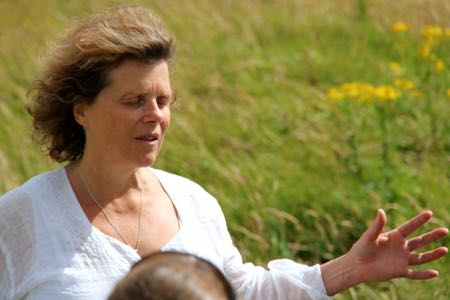 Biog
'When the pupil is ready the teacher will appear' - and so it has been for me throughout my life. My teachers have come in a multitude of disguises. Some of the lessons have taken me beyond the boundaries of what I thought was survivable and others beyond the my wildest dreams. For most of my life I have lived and worked in Central London - deep in the matrix - never-the-less, my teachers found me.
I learnt to surrender to the moment by giving birth. I learnt to follow the voice of my soul through life as a lone parent after the disintegration of a long and happy partnership. I learnt about endurance, laughter and enormity of Love by knowing Beth, a divine soul with multiple learning differences and physical handicap.
In the silence in which the sounds of everyday life sits, I found the door to an identity beyond the sum of my memories, thoughts and feelings; from this place, working with intuitive questioning, movement, voice work and laughter, as appropriate for you, I can help you unveil and discharge layers of past hurt. I can show you how to re-open connection to the natural world. I can hold a safe space within which you unfold.
Service & Pricing
I work face to face in my home city London or across the web via skype. I'm also open to email mentoring exchanges.
The usual cost for a session is 80GBP. If you can afford less than this amount, still contact me - I know what it is to need a break.
Ways To Connect
You can contact me via email: auntyangel@btopenworld.com
Stage 3 Facilitator
Jane is currently an Openhand stage 2 Facilitator. She has enormous depth and breadth of life experience, and is a gifted starsoul. Containing both empathic and catalytic energies in equal measure, she can hold you in a gentle embrace, whilst directing you deeper into the inner density. Jane is especially skilled at dealing with life's karmic trauma, and helping people process through it.