Infusing the radiance of the soul

When we truly step onto the spiritual path, life can become profoundly magical as the soul infuses within. Yet this process can also lead to a roller coaster ride of emotions. As the divinity within us unfolds, our lives can be thrown into turmoil. Living the life of the false self, constricted by inner child identities, no longer serves us. If we are to become our fully authentic selves and find fulfilling harmony in life, then we must go into the heart of this conditioning, release our attachment to it and then dissolve the blocked energy away. The only way out it through. That is the purpose of Openhand's level 3 Activation "The Transfiguration"...
Transfiguration
There is a monumental transition that happens to people who truly discover the spiritual path. A realisation ultimately dawns that the world we live in is not shaped by the things that we do. Although circumstances may appear to change through our outer actions, it is only an internal shift of beingness that truly changes the patterns of our lives.
A profound shift of perspective takes place.
This Realignment leads to the inner journey,
where we confront and strip away internal filters - false identities -
blocking the full expansion and radiance of our being.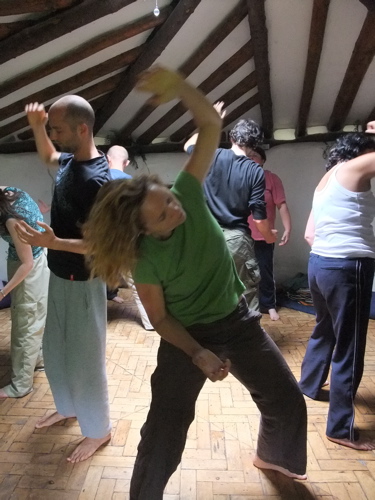 As we commit to the path, we'll be taken into all of those circumstances in our lives where we might close down, contract, get fearful, worried or attached to the outcome. But the universe is not having some great cosmic joke at our expense! These are exactly the areas we must go deeply into, because it is these eddy currents of blocked energy that are retarding the authentically creative flow through our lives.
With each internal confrontation, the soul - our authentic true self - integrates more completely until our inner identities - which make up the false self - completely shatter. A Kundalini Activation then happens where soul consciousness within the lower and higher selves are united as one, and we as pure presence - "the Seer" - step out of the limiting dynamic to fully taste the blissful majesty of pure beingness. This is the Transfiguration.
Course highlights
confronting, healing and dissolving inner child identities
undertaking 'radical forgiveness' both for ourselves and others
activating kundalini, uniting higher and lower self
transcending the ego and raising our vibration in day-to-day life
taking people into the crystal clear clarity of the Seer
The Work: Activation level 3
When we're truly walking the spiritual path, it's going to take us into all the areas of ego and false identity - conditioning that has built up through our childhood, teenage years and early adulthood. It is these false self filters which mask the soul. During this level 3 Activation, we'll be taking you deep into this density, stirring up life's sediment and helping you cleanse it from your field.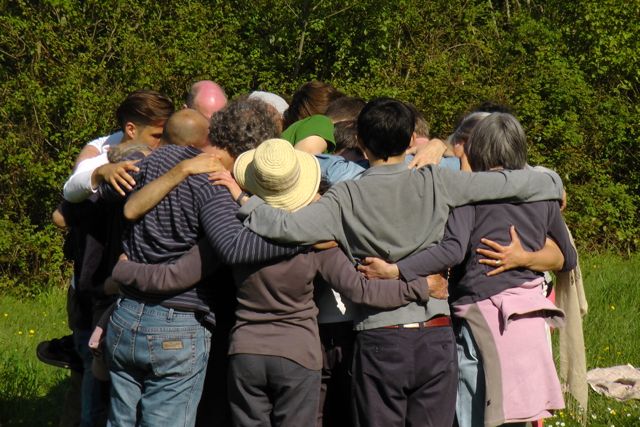 After this deep consciousness cleansing process, well then resonate energetic keys to unlock the doorways to your higher self so that you experience a profound shift in consciousness. We'll use the Openhand Meditation in Movement and Breathing techniques to reactivate and reintegrate these lost fragments of soul gold.
"We'll be using beautiful and powerful
heart-stirring ceremony
to truly move you to the core of your being"
The work will prepare the inner fertile ground so that ultimately, your full Kundalini Activation can take place where lower and higher selves are internally united as one. This level 3 Activation will pave the way towards fully transfigured living, becoming increasingly aligned with the natural flow of the universe, united with the divine.
The environment for our work: "The Earth Spirit Centre"
From the food we eat, to the clothes we wear and houses we live in, our society seems perfectly configured to lower our vibration removing us from the experience of divine union. Electrical gadgets and appliances, newspapers, TVs, and mobile phones are but a few things which together generate so much internal activity, that our consciousness - our soul - is sucked into the whirlwind of activity. It is fragmented and swallowed up like water into a sponge.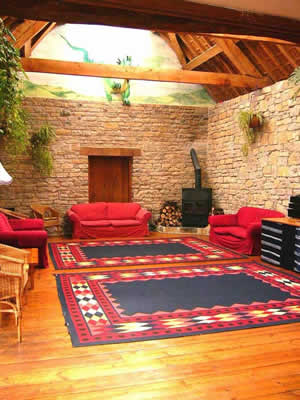 That's why we've purposefully chosen a highly clear and energetic space in which to do the work. "The Earth Spirit Centre" in the rolling hill sides just outside of Glastonbury is highly respected by spiritual facilitation groups around the world. It offers environmentally friendly, comfortable and energetically clear accommodation. The food will be healthy, vegan and made with love. The surrounding hillsides are brimming with the nurturing and transformational energy of Mother Earth.
"In this crystal clear environment,
we will detoxify mind, body and spirit
thereby tasting the sweetness of divine union,
and discover together how to maintain
this higher vibration in our daily lives"
Course Facilitators
Chris Bourne: At the age of 40, Chris was involved in a life threatening car crash in which he thought he would certainly die. This precipitated total inner surrender, a rapid expansion of consciousness and reconnection with the absolute - the God within us. He explains "It was as if I was being challenged to surrender every belief and value that I held. The sense of coming home to my true self was joyous and intensely liberating. I felt that in losing what I thought to be myself I had gained everything".

Prior to his awakening Chris had a rich and varied professional career including a Science Masters Degree from Oxford University. It is this synthesis of both profound spiritual experience and grounded scientific understanding which is proving invaluable in facilitating others in their own journey of Spiritual Evolution.

Trinity Bourne: Trinity developed a keen interest in harmonious living from a young age, enjoying a passionate affiliation with the natural world. About seventeen years ago she experienced a profound spiritual awakening opening her heart to the 'truth' about our inherent nature. This led to a series of powerful experiences guided by higher consciousness initiating compelling direct experience of multiple dimensions.

Trinity has a wealth of first hand experience of how energy moves both in the field and within individuals, removal of energetic blockages, kundalini energy, past lives, karma and their relevance to our current incarnation.
Outcome
"The Transfiguration" is a life changing experience. It offers the potential to make radical improvements in our way of living. It helps process blocking energy and raise our vibration thus reuniting us with our true birthright - our destined way of being.
Ultimately it will activate the expansion of consciousness necessary to precipitate your Transfiguration and ultimate union with the divine.
To read the feedback and see photos from 2012's course...click here
Next Transfiguration course?
To find out when the next Transfiguration course is, check out the navigation bar at the top right of this page or click the "Events" section in the header navigation.
The course currently takes place only once a year in the UK...contact us
***IMPORTANT*** We will respond to your email as soon as possible, if you have not heard from us within 24 hours, check your spam folder!!!
Alternatively call Trinity on (+44) 01458 830443.