Submitted by Chris Bourne on 14 December, 2011 - 07:12
A New Earth?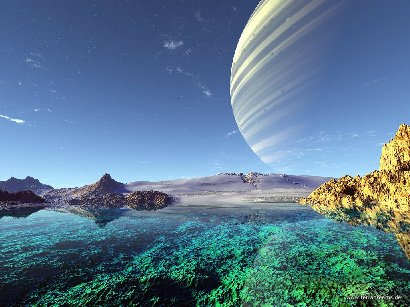 With great excitement, NASA scientists have discovered a new sister planet for earth. She's 'affectionately' called Kepler 22-b. It's given science great hope for the future of humanity when (at the current rate of consumption) it destroys its current home. There's just one problem with the theory, it's 600 light years away! If only NASA was reading the story within the story, the synchronicity that reveals itself even in the new planet's name. Yes there is a second planet, a planet b and it's a helluva lot closer than 600 light years. In fact it's right here, right now, all around us. And we don't need an expensive, high-tech space ship to get there, just our very own higher bodily vehicles of expression. And all we need to do is open into them...
The space-race to nowhere: the "now here"
I do find the space race quite 'interesting' (in a tongue in cheek way). It seems science is investing billions in trying to find a new home. In a way I guess you could call that sensible. Yes, if we continue to exhaust and plunder the earth's natural resources at the rate we currently are, and yes if we destroy the environment and natural eco-systems in the way we are, pretty quickly we will definitely need a new place to live.
In the visions I've seen, key tipping points have already been set off, meaning that in the third dimension at least, Earth will become increasingly hostile and uninhabitable in the decades ahead. As wonderful as the new consciousness for awakening people is, I for one don't believe a collective awakening will be fast enough and generally widespread enough to change the current direction in which the vast majority are heading. At least not in a truly meaningful way.
I could be in a small minority with this viewpoint. I accept that. Possibly because I've evolved past the need for hope. Hope is no longer a part of my reality. To me, hope suggests a non acceptance of what's really happening. It suggests trying to imagine and manifest a more 'desirable future'. The point is, that when we dispense with hope and authentically transcend the truth of the moment, we're empowered to connect with reality the way it really is...
"When we surrender into the sensual subtlety of the moment,
that's when the path to the new paradigm unfolds before us.
Or put more appropriately, WE unfold into IT!
Yes, a New Earth really does exist. And the good news is that it's not 600 light years away. In fact, the miraculous and magical thing is that we can access it here and now, all around us. We can begin to live in the new paradigm right now. In my knowing, that's mankind's immediate destiny - at least for those who choose it. It's a space-race to the "now here".
Launching into inner space
That's why here at Openhand we were given to launch the Five Gateways project. No it's not a space-ship, but it can launch you into space never-the-less! Five Gateways is a sophisticated and illuminating route-map, which has been gifted to humanity by higher benevolent consciousness. We've been guided by spirit with every word of the book, in every scene of the film, and through every self-realisation exercise during the courses.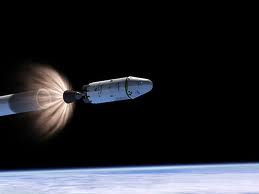 Five Gateways is a blue-print for our immediate destiny. Simply by understanding and integrating it's meaning, can be enough to catalyse and accelerate someone's evolution. In particular, it helps people process their heavy baggage that's holding them in the lower paradigm. Once this happens, then we are truly liberated (not just temporarily) to catalyse an expansion of consciousness into our higher bodily vehicles of expression.
Then indeed the process does work similar to an Apollo space craft. By transcending the lower vehicles, we're launched into the higher ones. When ultimately we pass on, the lower vehicles fall away and there's no longer a need to reincarnate. Instead, within our higher vehicles of bodily expression, we occupy a new space, a renewed earth, vibrant and teeming with colourful new life.
Spiritual boot-camp
To me it's as if this place has become a 'spiritual boot-camp'. In the coming years, we're going to be put through our paces to see if we've got what it takes to occupy the new paradigm. But let me hasten to add, the evolutionary process is not a judgmental one. In my knowing, every single person has a ticket to the new paradigm. The simple fact of the matter is, that right now, only a few choosing it. Not the 'chosen ones', but the 'choosing few'.
Personally, I've learned to become awesomely accepting and okay with that. Even if (through the big corporations) we continue to plunder earth and destroy our atmosphere, I will be one of those planting that apple tree today. Because although the immediate future here may be limited, it makes me feel more at one with Gaia. When I do something which respects and cares for her, I feel so much closer to her...
"Shortly after I woke up, I felt an overwhelming sense of connection to mother earth. Just spending time in nature communing with the trees, listening to the birds dawn call, or watching the swirling clouds heavenly ballet. Everything brought me deeper into the bosom of Gaia.

And I remember driving home one day, passing through a local business park, seeing all the unwanted litter cast ignorantly adrift, I just had to stop the car and pick it up. Even if the place was awash with such flotsam, I just had to do my bit. As my heart opened deeper to Gaia, she blew the last sweet wrapper across my path. It was a "star-bar". Inwardly, although melting with synchronistic love, I just had to chuckle!"
To me there's is no doubting it, 3D Gaia is very much a part of the pathway to 5D Gaia. We have to become as one with her in order to walk into the higher paradigm. That's a huge part of the process.
Five Gateways - boldly going into 2012
So although I'm slightly fascinated by the space race for a new earth, instead, I will certainly be one of those encouraging the alternative journey into inner space. For only there can our immediate destiny be unfolded...
"Space, the final frontier.
These are the voyages of the starship Enterprise.
Its 5-year mission: to explore strange new worlds,
to seek out new life and new civilizations,
to boldly go where no man has gone before."
James T Kirk
LOL! Yes indeed. That's why we're putting so much attention into the Five Gateways work. Speaking of which, we're releasing a new revision of the book on January 1st 2012. It contains essentially the same content, but the vocabulary has been intensively worked on to achieve greater accuracy. You can get an advance copy at the link below. And if you already have a copy of the first edition, we're offering a FREE ebook of the new version to replace it. Just email us and ask (include in your email the ISBN of your current version).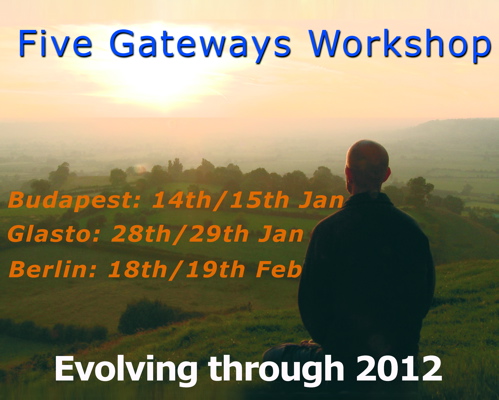 That's not to mention of course our experiential workshops which are increasingly enhanced with the new catalytic energies. In 2012 we're branching out into new countries where there's a growing alignment with the message.
We're 'boldly going where Five Gateways has not gone before!'
Till then
Chris
Discover how "Five Gateways" can inspire you and your work...