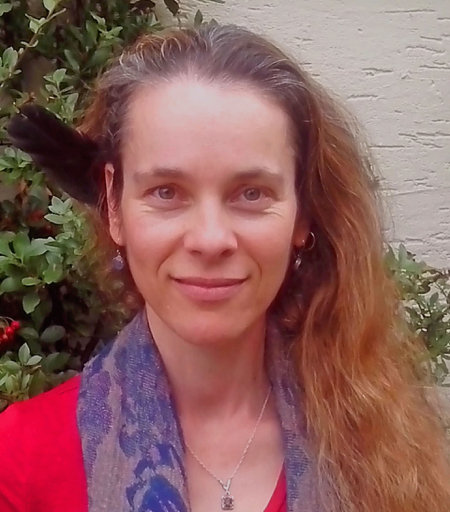 A Wanderer
We are all sacred wanderers, Wallahs: souls with a service and a duty to awakening; to embodying unconditional Love, that Pure, Limitless, All-inclusive Awareness - to coming back Home. And we are of service to others and the Earth – we know it, we feel it and we want to live it. That's why we are all here… and now here with Openhand.
I am indeed a wanderer… Energy dancer… Love maker… Body inclusive… Gender expansive… Animal protector… Nature Morph… Amazonian Divinity. Do you see a Mirror?? The energy dancer in me feels a great sense of fulfilment when facilitating open, conscious and transformative dance spaces with people coming from various backgrounds. I tend to co-create what I call mindful acoustic movement landscapes within the mainstream mental health sector.
Transforming the shadow side in me and in others manifests in various forms. One of them is a long-term personal engagement – experientially and academically - in Buddhist-oriented practices. Another is my role as a certified Mindfulness teacher designing and delivering courses to all kinds of populations including businesses and in the community. In my body inclusiveness, I co-create re-alignment through the physical with anyone who is drawn to my work as a Pilates Flow instructor. I have been holding such spaces for over 24 years now. I value expression of diversity and have been exploring libido as the body's natural energy that longs for freedom in the dance movement landscape. The animal protector in me knows the interbeingness between us all - all sentient beings. Did you know that our shared consciousness-field is littered by the agonies endured by billions of animals exploited everywhere in the world in many ways? I share this with you because I hear their agonies every day – it motivates my work.
I speak out in festivals, street stalls, community events, Mindfulness courses and on-line as a liberation activist who sees the intersectionality between ours and animals' liberation. In loving Nature I morph ceaselessly: into water flows and mountain tops, into vast oceans and silent desserts. I tend to share this passion in 'Mindfulness with Nature and Animals' courses delivered in the community and the mental health sector. The Amazonian divinity in me is fully connected and inspired by Openhand. A beautiful, powerful and divine landscape that is fearless, catalytic, loving and true.
To all You Wanderers in the Openhand Community
Finally, to all of you wanderers in the Openhand community and beyond - the old veterans and the new comers - I extend my heart felt gratitude for creating this virtual space where everything becomes possible. I am now wandering here as the Openhand Community Coordinator and a vessel for your creations.
"Herman Melville in Moby Dick spoke of wanderers in all epochs and meridians. He said: "I'm tormented with an everlasting itch for things remote, I love to sail forbidden seas'"…. Watch this amazing video narrated by Carl Sagan and feel deeply into who you are! Love and Peace x