Openhand New Year Retreat: Glastonbury 29th Dec - 1st Jan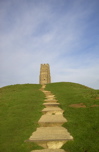 Openhand Spiritual Development Retreat to launch you into the NewYear...
The "Openhand New Year Retreat 2009/2010" is a powerful spiritual development experience. In a safe and nurturing environment, it helps dissolve away accumulated stress from day-to-day living and unleash the awesome majesty of our being. In helping us realign with our soul, the retreat reactivates our inner guidance mechanism so that we may recenter on our true life's path. It provides the perfect opportunity for us to recharge our batteries rejuvenating mind, body and spirit, so that we may approach the NewYear invigorated with a new sense of purpose and direction...
It takes place from Tuesday 29th December until Friday 1st of January 2010 in the magical country town of Glastonbury, a place famous for its holistic healing and deep spiritual interest.
Finding our True Self
Our world is going through difficult, transitional times. The growing turmoil and hectic pace of life these days can often generate blocked energy internally, which although we may not always feel, impacts in our work lives, our social interactions and our relationships. If the imbalance continues unchecked, it can reap havoc in the way we live and undermine optimum performance of mind, body and spirit.
The "Openhand New Year Retreat" is carefully crafted to help relieve stress, reconnect with the universal life energy and recentre on our destined pathway in life. In so doing, we find ourselves more at one with who we really are enabling us to be more confident, vibrant, authentic and true to our unique way of being. This yields greater harmony and success in life.
When we strip away the accumulated negative energy of day-to-day living, we find that we're able to go deeper into ourselves discovering new gifts of psychic sensitivity most of us probably never dreamed possible. In this way, the Openhand New Year Retreat is not just about cleansing and healing, but also our spiritual development and further evolution.
Flexible Program



The program will allow plenty of relaxed breathing space whilst at the same time providing powerful spiritual experiences to help us attune to universal life energy so that we may be better guided in our lives. We will take full advantage of the ancient and highly energetic sites to harness their vitality for maximum personal benefit. The program will include the following deeply healing and developmental activities:
Guided Self Realisation - powerful assistance in realising key strengths and releasing blockages
Universal Life Energy Attunement - to align with, integrate and follow the way of life that best serves us
Deep consciousness movements - to remove energetic blockages, heal and unleash our full physical and mental capacity
Detoxifying, tasty and wholesome diet - to cleanse and rejuvenate
One-on-one Life coaching and spiritual counseling - to resolve key life issues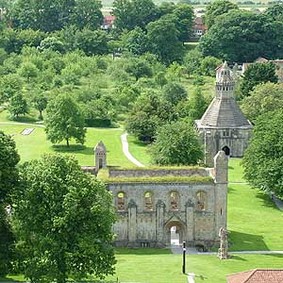 Timings will be flexible and relaxed to allow for the spontaneity of the group energy and responding specifically to individual needs. Part of the day will be left free to explore Glastonbury and its spiritual locations, get acquainted with other open hearted people, or just to be still and quiet in our own company.
In the evenings we will sample together the delights of healthy, nurturing cuisine, chat, play music and generally enjoy the dance of life. By providing deeply insightful, mirroring experiences for one another, we'll get to see much more clearly the issues that have been limiting us and the way to unleash our true gifts of divine beingness.
Many benefits
Greater self realisation - for increased clarity and understanding of life's purpose
Stronger intuitive guidance - to guide us on the pathway in life that best serves us
Mind and body detoxification - to cleanse at the deepest levels
Expanded inner peace - to rebalance, reharmonise and recentre
Increased energy and vitality - to energise us for the New Year ahead
Healing Waters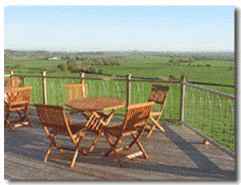 Healing waters is a cosy, nurturing and supportive environment with crystal clear energy providing the perfect facilities for rest, rejuvenation and self exploration.
Centred on the mythical site Wearyall Hill, its beautiful decked terrace has expansive views across of the Somerset levels and other spiritual sites such as the Glastonbury Tor. Food is organic vegetarian and open to special dietary needs. The Rooms are bright, clear and airy.
Although conveniently located a short walk from the town centre, it is set in a quietly peaceful area. For full details, check the website: www.healing-waters.co.uk
Retreat Facilitators
Chris Bourne: At the age of 40, Chris was involved in a life threatening car crash in which he thought he would certainly die. This precipitated total inner surrender, a rapid expansion of consciousness and reconnection with the absolute - the God within us. He explains "It was as if I was being challenged to surrender every belief and value that I held. The sense of coming home to my true self was joyous and intensely liberating. I felt that in losing what I thought to be myself I had gained everything".

Prior to his awakening Chris had a rich and varied professional career including a Science Masters Degree from Oxford University. It is this synthesis of both profound spiritual experience and grounded scientific understanding which is proving invaluable in facilitating others in their own journey of Spiritual Evolution.

Trinity Bourne: Trinity developed a keen interest in harmonious living from a young age, enjoying a passionate affiliation with the natural world. About fourteen years ago she experienced a profound spiritual awakening opening her heart to the 'truth' about our inherent nature. This led to a compassionate lifestyle of divine service establishing and leading an environmental group preserving local natural habitats, followed by study of herbal medicine, natural nutrition, and holistic therapies.

Over the years she has been taken in hand by higher consciousness through countless profound encounters and meditational experiences to learn the intricacies of multiple dimensions through kundalini activation; removal of energy blockages; astral and out-of-body projections; the subtleties of both unity and separation consciousness, past life regressions including their relevance to our current incarnation.
Administration details
Date and Timings:The retreat will commence at 2 pm on Tuesday 29th December (you may arrive from 1pm onwards). It will end at 2pm on Friday 1st January
Venue: The venue is "Healing Waters" in Glastonbury, a place of nurturing, crystal clear energy. The address is 1 The Roman Way, Glastonbury BA6 8AB. For full details check the Healing Waters website...www.healing-waters.co.uk
Cost: The full cost is £295 which includes full board and accommodation. Food will be cleansing, rejuvenating and tasty
Travel: Glastonbury is conveniently located in the heart of the countryside and yet within easy reach by plane, train, bus and car. It is about 2hrs drive from London and Birmingham and 3hrs from Manchester. It is a 1hr flight from Inverness in Scotland. We are a less than 1 hour bus journey from Bristol which has a main train station and international airport
Not for profit: Openhand Foundation is a not for profit organisation. All surplus revenues are reinvested to facilitate our objective - to help others in their journey of spiritual awakening
Booking info:To book a place or to ask for more info, click on this link... click here
Alternatively call Trinity Bourne on +44 (0)1458 830443.
Uplifting outcome
Many people have reported the tremendous benefits that the Openhand work has brought to their lives. Whether you've done the work before or not, our life energy attunement and self realisation processes are likely to have a profoundly uplifting effect on you.
Many report expanded inner peace emanating from a greater connection to the source bringing increased clarity in life from the place of deep inner knowing. In this way, we are better able to refocus on our life's journey and follow the path that best serves us.
Feedback
I would like to thank Chris and Trinity from the bottom of my heart for organising and facilitating the Openhand Easter Weekend. The work we did on the retreat was truly transformational and really empowering. I have been on many spiritual retreats in the past, but nothing quite like this. I would absolutely recommend the retreats to anyone who is seeking to find their true self amongst all the humdrum of modern day life. Chris's method of drawing from many Ancient Spiritual Practices and combining them with the energy of modern music and films is just so amazing. I can honestly say it moved me profoundly and we also had such fun!!!! Anne
Thank-you for an amazing 4 days with Openhand. I went through so much and have come away with a sense of what it means to surrender completely. I also have a connection with who I really am and I feel a stronger person as a result. I have had lots of realisations both there and since returning. I feel I have taken a huge leap forward on my spiritual path and really opened up my heart. Anya
Just to say an enormous thanks for your efforts running the recent Openhand courses I attended. I was literally blown away by the incredible energy and I don't know which I enjoyed more, learning and working through the exercises or meeting so many wonderful people. The effects have been nothing short of profound on my own personal growth and I am looking forward more than ever to getting involved with upcoming events and also experiencing more of your incisive understanding. David
22668 Reads