"The Transfiguration" (level 3): Wales 4th-11th Jul 08
How do we experience ourselves as the soul?
As the pull of the soul awakens the divinity within us, our lives can be thrown into turmoil. Living the life of the False Self, where we have identified with our personality, ceases to satisfy us and yet frequently, the soul seems to lead to greater detachment from society. It feels like we are being pulled in two contradictory directions...
This can lead to inner conflict and a roller coaster ride of emotions. As we open to the flow of divine love, we experience enormous surges of energy lifting us to wonderful peaks; food, sleep and needs of the body no longer seem necessary. Then suddenly we can be plunged into energy lows where it becomes difficult even to get out of bed in the morning. How do we resolve this situation?
It is at this point that we must go inwards and facilitate a shift of perception from experiencing ourselves as the personality to experiencing ourselves as non-identified awareness - the "Seer of all things - expressed uniquely for each of us through our soul.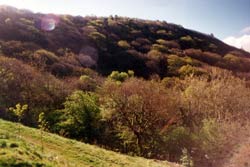 "The Transfiguration" is for people who are ready to make that journey. The course takes place from 4th-11th July 2008 at the remote mountain retreat centre "Cae Mabon" in Snowdonia North Wales where the energy is clear and high.
Transfiguration
As the consciousness of the soul awakens within our being, its influence in our lives generates a strong inner pull to selfless action for the benefit of all which becomes increasingly at odds with the life we established when our personality was leading.
When we find ourselves in this place there is no longer a choice to return to the world of ego and separation from the Absolute. To do so only generates greater internal discord and suffering. The only way out of this situation is through. The way forward is 'transfiguration'.
This is where the ego is caused to surrender completely to the inner governance of the soul. The soul activates fully within the personality and our inner perception makes a dramatic shift to being the absolute "Seer" of all things expressed through the soul.
As Transfiguration takes place, we are caused to transcend selfish wants, needs and desires. Our reward is ever expanding inner peace and self love. In this divine union, we no longer need manifestation in the world as our reward for 'right action' although we observe that our true needs are always being taken care of.
How do we become transfigured?
The Transfiguration is not something that can be initiated by intention - it cannot happen according to a plan. However it can be prepared for. By understanding fully this process of expanding consciousness, we may facilitate and ease the process. In short, we can catalyse it by raising our vibration.
From the food we eat, to the clothes we wear and houses we live in, our society seems perfectly configured to lower our vibration removing us from the experience of divine union.
Electrical gadgets and appliances, newspapers, TVs, mobile phones, computer games, cars, clothing and other 'accessories' dominate our lives. Corporate marketeers have created lifestyles for us tempting us to buy their never ending supply of 'latest new things'.
Apart from being devastatingly destructive for our environment and natural ecosystems, this "matrix" of conditioned behaviours and thinking, generates so much internal activity, that our consciousness - our spirit - is sucked into the whirlwind of activity. It is swallowed up like water into a sponge.
By turning down society's cacophony of noise, we can begin to still mind and body once more, release our illusionary attachments to things we don't need and expand our consciousness to be at one with all things. It is this process that will facilitate our Transfiguration.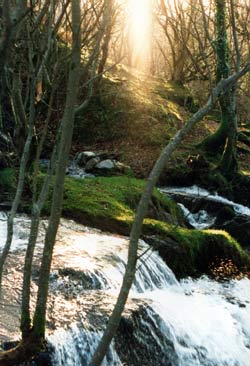 The Work
"The Transfiguration" is a week long inner exploration in a clear and open space away from the collective human mass subconsciousness to help us connect fully with our divine birthright - union with the Absolute.
The work will take place at Cae Mabon in Snowdonia (visit website...
Cae Mabon) specifically chosen for its remoteness, minimal negative outside influence and high residual and natural energy.
In this crystal clear environment, we will detoxify mind, body and spirit thereby tasting the sweetness of absolute divine union once more and learn how to maintain this higher vibration in our daily lives.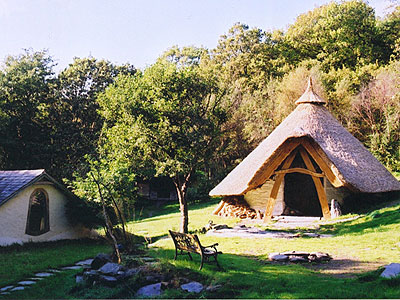 Whilst living in ecologically sustainable dwellings at one with mother nature and by way of experiential exercises, meditation in movement and ceremony, we will offer invaluable information and skills in achieving and maintaining a high energetic vibration so that we are able to optimise our own home, social and work environments.
In this way, our path to completely transfigured living will be eased and facilitated.
Facilitators
Chris Bourne: At the age of 40, Chris was involved in a life threatening car crash in which he thought he would certainly die. This precipitated total inner surrender, a rapid expansion of consciousness and reconnection with the absolute - the God within us. He explains "It was as if I was being challenged to surrender every belief and value that I held. The sense of coming home to my true self was joyous and intensely liberating. I felt that in losing what I thought to be myself I had gained everything".

Since his initial awakening, Chris was guided through four other expansions of consciousness - "Gateways of Light" - leading to enlightenment and ultimately our Ascension. It is through this direct experience that Chris has realised his true purpose here is to help others on their own journey of full awakening.

Trinity Bourne: Trinity developed a keen interest in harmonious living from a young age, enjoying a passionate affiliation with the natural world. About thirteen years ago she experienced a profound spiritual awakening opening her heart to the 'truth' about our inherent nature.

This led to a compassionate lifestyle of divine service establishing and leading an environmental group preserving local natural habitats, followed by a comprehensive study of herbal medicine, natural nutrition, and holistic therapies. Her experience of massage therapy synthesises various techniques from around the globe including Lomi Lomi (Maui, Hawaii), classical massage, neuro muscular technique, Trager and Indian head massage. The bodywork treatment helps restore balance, unfold our inner spiritual nature and remember our natural state of profound inner peace.
Administration details
Venue: The course will take place at the remote mountain retreat centre 'Cae Mabon' in Snowdonia. Check the website for details...Cae Mabon
Cost: The full cost of the course including food and accommodation is £495
Directions: Full directions will be given on booking. To find out more about the location, check the Cae Mabon website for details
Date and Timings:The centre will be available for people to gather from 4pm on Friday 4th July (dinner will be served at 6pm). The course will end after breakfast on the Friday 11th July
Booking:To find out more and to reserve a place, click on this link... click here
or call Trinity Bourne on +44 (0)1458 830443.
Outcome
"The Transfiguration" is a powerfully life changing experience. It offers the potential to make radical improvements in our way of living to raise our vibration reuniting us with our true birthright and destined way of being.
It will help manage the expansion of consciousness that precipitates our Transfiguration and ultimate union with the divine.
"It doesn't interest me if there is one God
Or many gods.
I want to know if you belong or feel abandoned,
if you know despair or can see it in others.
I want to know if you are prepared to live in the world
with its harsh need to change you;
if you can look back with firm eyes
saying "this is where I stand."
I want to know if you know how to melt
into that fierce heat of living
falling toward the centre of your longing.
I want to know if you are willing
to live day by day with the consequence of love
and the bitter unwanted passion of your sure defeat.
I have been told in that fierce embrace
even the gods speak of God."
David Whyte
27529 Reads