Carrot & Ginger Wellness Soup to nurture your soul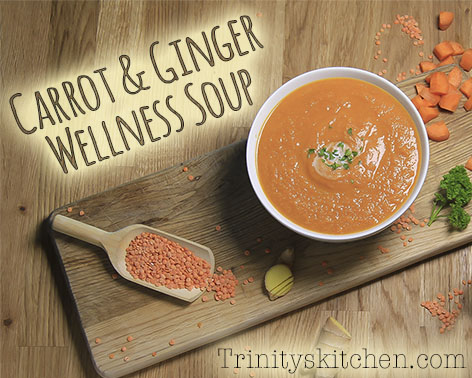 There are a myriad of different things in society that act against our health and spiritual evolution. I find that taking care of myself on a physical level, is really important for my spiritual well being. So, I ensure that every mouthful of food I eat nourishes and supports me. Today I am sharing a deliciously easy recipe - that not only leaves you with a well satiated feeling (perfect for my friends experiencing the chillier winter climates right now), but is also jam-packed full of high quality nutritional goodness. As always, I recommend you use organic produce to give you (and the planet) an extra infusion of goodness. Before we get to the recipe, here are some of the health benefits of this tasty soup...
Health Benefits:
Carrots are especially high in anti-oxidants and vitamin A (vitamin A is great for healthy vision, skin and immune support). Ginger is one of the most common beneficial spices out there, with a powerhouse of immune supporting properties, lending itself so graciously to any sort of conscious health-promoting cuisine.
Lentils give a healthy dose of plant-based protein. Lentils are a popular member of the legume family, well known for helping to reduce cholesterol and lower blood sugar levels. Not only do they have impressive levels of folate, iron, phosphorous, copper, manganese, they also help out with a slow release of energy via their complex carbohydrate structure.
Coconut provides a flavoursome creaminess, whilst imparting a foray of support for your body in the process. We need healthy fats for optimal brain and nerve function; for growth, development and healthy skin; for transporting fat-soluble vitamins (A, D, E & K) throughout the body; for energy and essential fatty acids. Coconut is a plant-based fat that provides healthy short chain and medium chain fatty acids, shown to support health. Not only that, coconuts also contain considerable amounts of lauric acid, which is the main fatty acid found in human mother's milk.
Overview:
Carrot & Ginger Wellness Soup
Time: 20 minutes
Serves: 2 hearty bowlfuls
Ingredients:
500g carrots (about 1lb or 5 medium sized carrots)
75g red lentils (2½ oz or 5 tablespoons)
1 heaped teaspoon ginger (freshly grated)
500ml water
1 teaspoon sea salt
125ml (½ cup) passata - passata is basically crushed & strained tomatoes in a jar/carton or tin
150ml (²⁄3cup) coconut cream
1 heaped teaspoon ground paprika or ground coriander seed
Handful of fresh parsley or coriander leaves
How to make it:
Put the water in your soup pan/pot and turn on the heat.
Toss in the lentils.
Chop carrots into small pieces and add to the pan.
Grate your fresh ginger into the pan.
Add the sea salt, passata and paprika.
Once it has come to the boil, turn down the heat and allow to simmer for about 20 minutes.
Add the coconut cream about a minute or two before the cooking time is complete.
After 20 minutes the lentils and carrots should be cooked through. Blend until creamy smooth. This works best with a hand (immersion) blender, where you can do it right there in the pan.
Once blended, roughly chop your fresh herbs and mix into the soup and serve.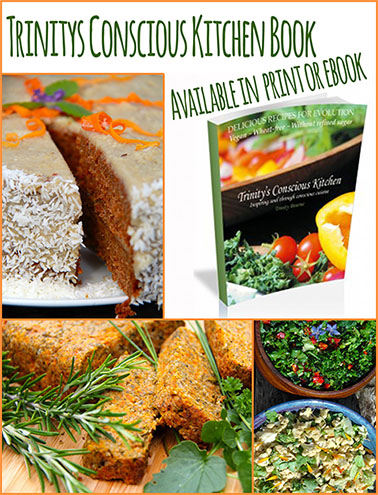 I hope that you enjoy this as much as we do.
Check out our other free recipes here: Trinity's recipes on Openhandweb
Check out Trinity's own website here: www.TrinitysKitchen.com
With love Trinity
Exciting & Popular Official Openhand Recipe Book - by Trinity Bourne
Trinity is the Openhand Chef and author of the full colour book 'Trinity's Conscious Kitchen' - recipes and inspiration designed to raise your vibration and help catalyse your spiritual evolution. It's a vegan, wheat-free book full of tasty dishes, healthy breakfasts, high pranic salads, dips, pates, dressings, nutritious main meals, soul-warming soups, tasty side dishes and delicious desserts. It's an absolute labour of joy and love, created after many years of catering for our retreats and workshops here at Openhand as a conscious chef. We hope that you enjoy it as much as we do!
8199 Reads