"Way of the Heart": Glastonbury Easter 2007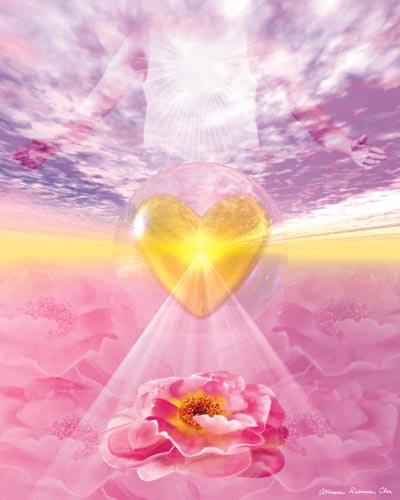 How do we unfold the way of life that best serves us?
We are each guided in life to find the way of living that best serves us. However if we stray from our centre, it can lead to dissatisfaction in life. How can we prevent this from happening? How can we manifest our true destiny - the lives we were born to live?
"Way of the Heart" is a four day transpersonal development course which provides a powerful and yet simple process we can apply in our daily lives to help us follow our true path - that guided by the heart...
The course takes place over the Easter bank holiday 2007 from 6th-9th April at the Shekinashram in Glastonbury harnessing the natural beauty and high energy of the area...
Why is it difficult to understand and follow guidance?
The whole universe conspires to help us follow our heart but so often the messages seem confusing, are difficult to hear or lead to the 'wrong' result. Frequently this is because the true purpose of the guidance is misinterpreted - it is distorted by inner attachments to a particular outcome.
However, if we can adopt the place of the 'observer' of our personality, then we will see that all guidance reveals first our inner distortions and second, that each distortion conceals a hidden gift; a gift of profound beingness. If we can centre in this aspect of beingness instead of the distortion, our true expression - the soul - will manifest outwards and positively influence all aspects of our lives.
"Way of the Heart" helps us identify distortions and then transmute them into these powerful gifts to help us be more successful in our lives.
Openhand Spirit - a process of self discovery
When we are following divine guidance, we become as one with the natural energetic flow of the universe. We observe harmonious synchronicity supporting us and life becomes truly magical. We are freed to experience expanding inner peace.
By exposing and letting go of illusionary desires, needs and fears we can transform distorted behaviour patterns and the true self is unveiled complete with talents and skills we probably never dreamed of.
Letting go is not always easy though and the transformation requires perseverence. Openhand Spirit is a synthesis of ancient and contemporary techniques, gifted by higher consciousness, to help us let go and unfold into ourselves. It will be offered on the course as a powerful means of transpersonal development (find out more...Openhand Spirit).
The Work
During the course we will carry out powerful experiential exercises to break through conditioned behaviour patterns so that we may live continuously with a liberated mind and open heart.
Together we will discover the true meaning of guidance, how to decipher it accurately and where it is ultimately leading us to. In so doing, we will move into harmony with universal life consciousness.
Facilitators
Chris Bourne: At the age of 40, Chris was involved in a life threatening car crash in which he thought he would certainly die. This precipitated total inner surrender, a rapid expansion of consciousness and reconnection with the absolute - the God within us. He explains "It was as if I was being challenged to surrender every belief and value that I held. The sense of coming home to my true self was joyous and intensely liberating. I felt that in losing what I thought to be myself I had gained everything".

Chris has studied a wide variety of ancient and contemporary philosophies, meditation practices and martial arts. He works closely with nature building on more recent experiences in shamanism. A science degree from Oxford University has helped unfold a deep understanding of human consciousness. He now dedicates his life to helping people work through their own spiritual awakenings.

Trinity Bourne: Trinity developed a keen interest in harmonious living from a young age, enjoying a passionate affiliation with the natural world. About thirteen years ago she experienced a profound spiritual awakening opening her heart to the 'truth' about our inherent nature.

This led to a compassionate lifestyle of divine service establishing and leading an environmental group preserving local natural habitats, followed by a comprehensive study of herbal medicine, natural nutrition, and holistic therapies. Her experience of massage therapy synthesises various techniques from around the globe including Lomi Lomi (Maui, Hawaii), classical massage, neuro muscular technique, Trager and Indian head massage. The bodywork treatment helps restore balance, unfold our inner spiritual nature and remember our natural state of profound inner peace.
Administration details
Venue: The course will take place at the Shekinashram in Glastonbury, a place of high energy. Check the website for an overview...www.shekinashram.org
Cost: The cost of the course is £155. There is a supplement of £40 if you wish to eat lunches and dinners at the Shekinashram where the course is held
Accommodation: Limited places are available at the Shekinashram at a cost of £19 - £25 per night (price includes breakfast). Alternatively you can book in at one of the numerous B&Bs in Glastonbury or the various camp sites. For more info....click here
Date and Timings:The course takes place from 6th-9th April 2007 starting and ending at 1pm
Booking:To book a place, click on this link... click here
For more information call Trinity Bourne on +44 (0)1458 830443.
Outcome
"Way of the Heart" provides invaluable tools on the journey to full self realisation. As we unveil more of our true beingness we experience being provided the resources and energy to unfold more and more of what we are. Life becomes abundant. We discover ever deeper realms of divinity and truth. We unfold into enlightenment.
"Conditioned behaviour patterns limit people,
the fluid truth of the moment solidifies forming
doctrines, actions that are inflexible...
But if you do not have such doctrines,
then the formlessness of universal consciousness
can flow through you like a fast flowing mountain stream,
continually shaping the best path back to the ocean.
In this way formlessness expresses itself through form
yielding authentic action moment by moment.
Doctrines inprison men, 'formless form' on the other hand
liberates us to experience continual human evolution."
Openhand
Feedback
"Well, what can I say? This marvellous work at Openhand just gets better and better. It was a great weekend indeed, allowing us in a place of safety and love to unpeel the layers of distortion hiding our true selves. It was deeply moving to see how everyone overcame their fears and doubts, moving into the certain confidence of right action arising from their own perfect and imperishable essence." Francis
Thank you so much to Chris, Trinity and everyone on The Way of the Heart course for such a beautiful, special weekend. I feel so inspired and uplifted, like I have finally found other people with a similar philosophy of following our true path of individuation – with all the courage that takes. It was such an amazing weekend, in a beautiful ashram, with everything amplified by the clear, spiritual energy of Glastonbury and the full moon. I feel wonderful! Ally
"Firstly, WOW! What an amazing course - thank you so much to Chris and Trinity for putting together such a meaningful and beautiful course. I have moved on spiritually in ways I had no previous comprehension of. I have encountered angels, felt my energy soar into the universe, felt laughter and love flow freely from my heart and have never felt so true or happy." Sonya