5GATEWAYS: the Spiritual Routemap
5GATEWAYS is a profound route map for spiritual evolution, handed down through the aeons by the masters, which is only now making its way into humanity's collective consciousness.
It helps you perceive your life as a journey of Enlightenment, expanding greatly your sense of inner peace, unfolding authentic beingness, bringing great success and fulfillment.
In understanding and applying it to your life, helps remove uncertainty, clarifies your true destiny, and helps you unfold that. It can catalyse your next evolutionary leap.
5GATEWAYS: a routemap to catalyse your spiritual evolution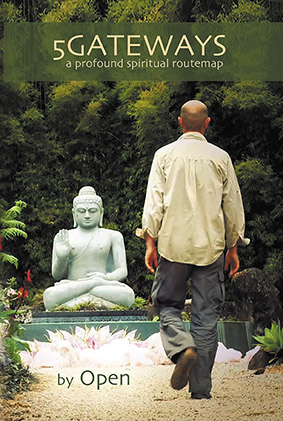 The best way to understand and become familiar with the philosophy of the 5GATEWAYS, is through the 5GATEWAYS text book, which provides enlightening tools, tips and advice for each stage of your journey...
300 pages of Enlightening tools, tips and advice for greater insight
Learn to follow inner guidance in day-to-day life for successful living
Discover where you are on the path for increased inner peace
Live a divine life in 5D Consciousness here and now
Make sense of Karma, Kundalini and Spirit Light Body Activation
DISCOVER MORE AND GET A COPY...Paperback from £12:00, Digital ebook £5.50
5GATEWAYS Retreats around the World
Openhand regularly conducts World Tours sharing the 5GATEWAYS work through our retreats. They take you on a progressive journey, through the inner layers of consciousness, reuniting you with your True Self and expanding you into 5D Consciousness. Here's a brief video insight...
Contact us
Feel free to contact us about the possibility of organising a workshop in your locality of the world. Where practical, we are prepared to travel to all areas of the world...Contact us
GET A COPY OF THE 5GATEWAYS BOOK...Paperback from £12:00, Digital ebook £5.50