Welcome to Openhand: actualising your 5D Divine Being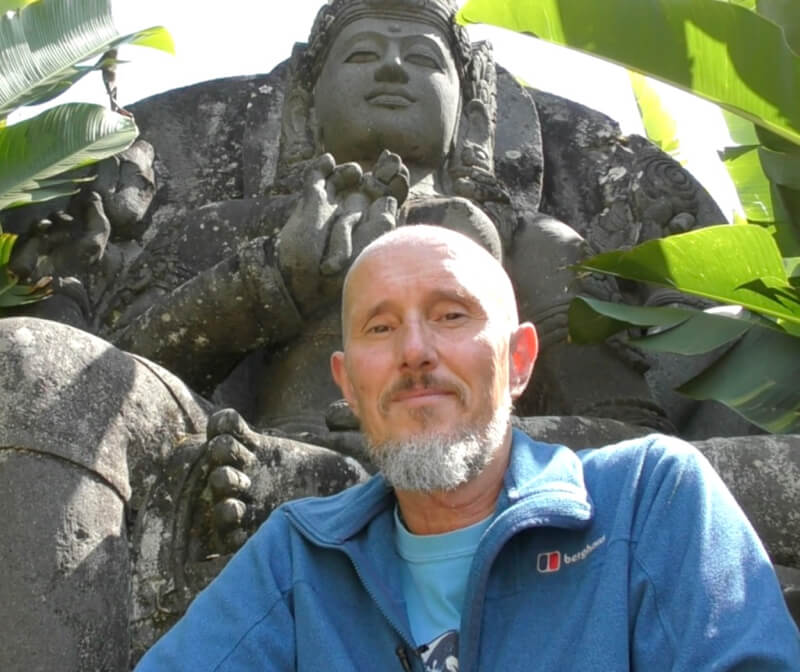 We're living in deeply alchemical times inviting a fundamental shift of consciousness. Firstly there is actualising the profound truth about who you really are - the Divine Being within. But this is only the beginning of the story. The landscape of our planet is set to be transformed in a radical Ascension Shift to 5D consciousness, which will involve the breakdown of everything we have come to know in the 3D. A broad array of etheric supporters have gathered here from across the cosmos to facilitate this transformation. Openhand is a core part of that Benevolent Mission. It may best be considered an integrated team of Ascended Master Energies.
Openhand acts as a bridge into higher dimensions of consciousness to help you embody your Divine Being in 5D.
Open, together with the Openhand energy, is working with people around the World to support the Shift...
TAKE PART IN AN OPENHAND RETREAT OR WORKSHOP

Openhandweb: a virtual community
Openhandweb is our virtual home, providing a platform for people to explore our philosophy and evolutionary approach. Open's purpose is to embody and express the energy of Openhand in order to reflect and activate authentic beingness in others, to join the miraculous shift into the New 5D Paradigm of consciousness that is available to us right now. He is supported by Tilly, our Community Connector, and Jye, our Outreach Coordinator, plus a global network of facilitators. You can read our brief biographies below...
Open: a Higher Dimensional Bridge...click here
Tilly: Community Connector...click here
Jye: Outreach Coordinator...click here
Openhand Facilitator Network: facilitators around the world...click here
Openhand's 5D Ascension Program
Our work has been carefully crafted to provide transformative alchemical processes to nagivate your inner world in the full revelation of your True, Divine Self. Through ground breaking meditations and assisted self realisation, the work takes you on an inner journey to your Sacred Ground of Being, and from there, actualising 5D Ascension. Based on the experience of working with groups around the world, we've created a dynamic framework for that inquiry which we call The 5D Ascension Program. It's a journey through three levels of course work, three interrelated books, energy shared through this web portal, and a worldwide Facilitator Network. It's a crucible of profound evolutionary change.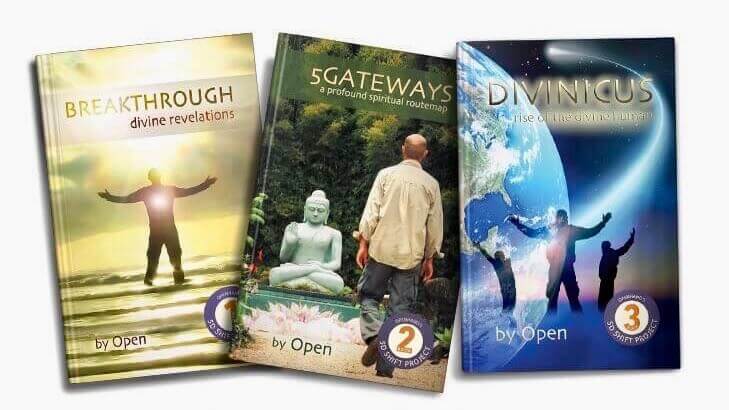 Openhand Inspirational Book Series
Book 1: BREAKTHROUGH - an epic journey of awakening
Book 2: 5GATEWAYS - how to successfully navigate the spiritual path
Book 3: DIVINICUS - Ascension into your Cosmic Divine Being
Openhand transformational tools
Openway...an enlightening process to attune your spiritual compass
BREAKTHROUGH...a method for unleashing your Cosmic Self
5GATEWAYS...an illuminating route map for evolution
DIVINICUS...revealing and processing humanity's karma
soulmotion...moving meditation for attuning your soul
Graded courses for evolution
The Spiritual Courses we offer are geared purposefully in a sequential way. They take place around the world throughout the year. Usually Level 1's take place from September to December, Level 2's from February to May, and the Level 3 once a year in June. There are usually two facilitator gatherings a year. Check events section for listings.
Openhand Stage 1 - "BREAKTHROUGH Intensive":
Understanding and Activating your Spiritual Evolution...full info
Openhand Stage 2 - "5GATEWAYS Retreat":
providing a 'spiritual compass' for walking the spiritual path in day-to-day life...full info
Openhand Stage 3 - "DIVINICUS Activation":
human story regression, final cleansing of karma, activation of your Spirit-Light-Body...full info
Openhand Facilitator Program:
training & accreditation of your facilitation skills to become a positive force for evolution...full info
Facilitator Network
We feel divinely inspired to share the Openhand philosophy, tools and guidance with as many around the world as possible. So we're building a Facilitator Network to help people with their spiritual evolution. If you'd like a spiritual mentor, coach or facilitator to help you, you can find out more here....Openhand Facilitator Network
Contact and Mailing
To register as a member of Openhandweb...click here
To subscribe to our newsletter...click here
To email us...click here
Open, together with the Openhand energy, is working with people around the World to support the Shift...
TAKE PART IN AN OPENHAND RETREAT OR WORKSHOP