UPCOMING COURSES & EVENTS
Here are our latest events listings in date order:
***2020 THRIVE IN 5D PROGRAM LAUNCHED NOW***
Here's where we'll be from March to July: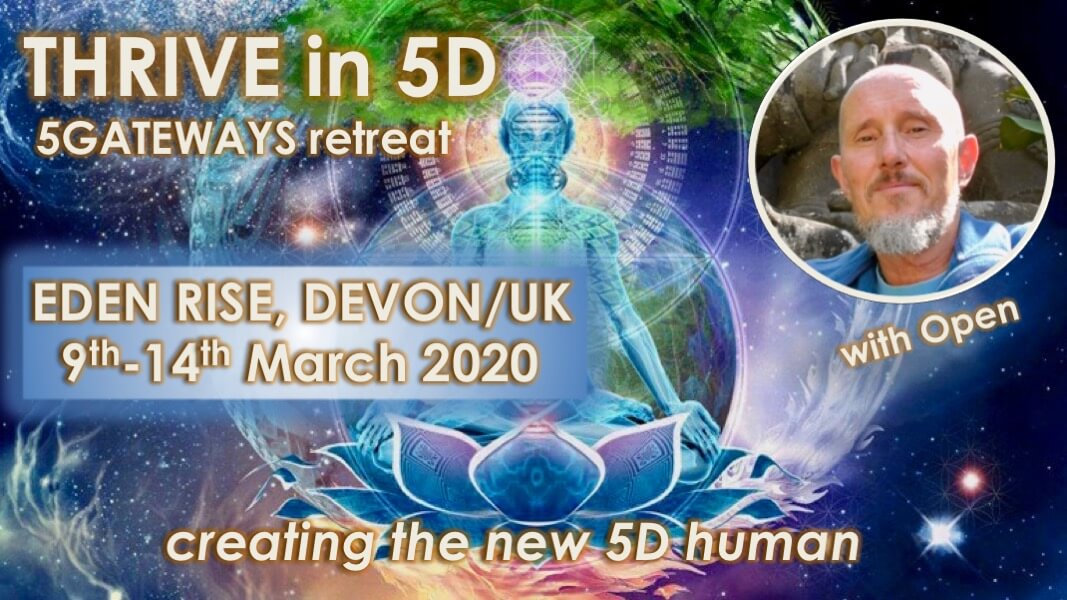 9th/14th Mar: EDEN RISE, DEVON/UK 5day retreat
Everyone's talking about the "Shift into 5D", but how do you actually undertake that alchemically? And most importantly, how can you live abundantly and successfully from 5D consciousness now? Join us at the wonderfully secluded and aptly named Eden Rise in Devon to unleash your highest potential.
Let's Thrive in 5D right now!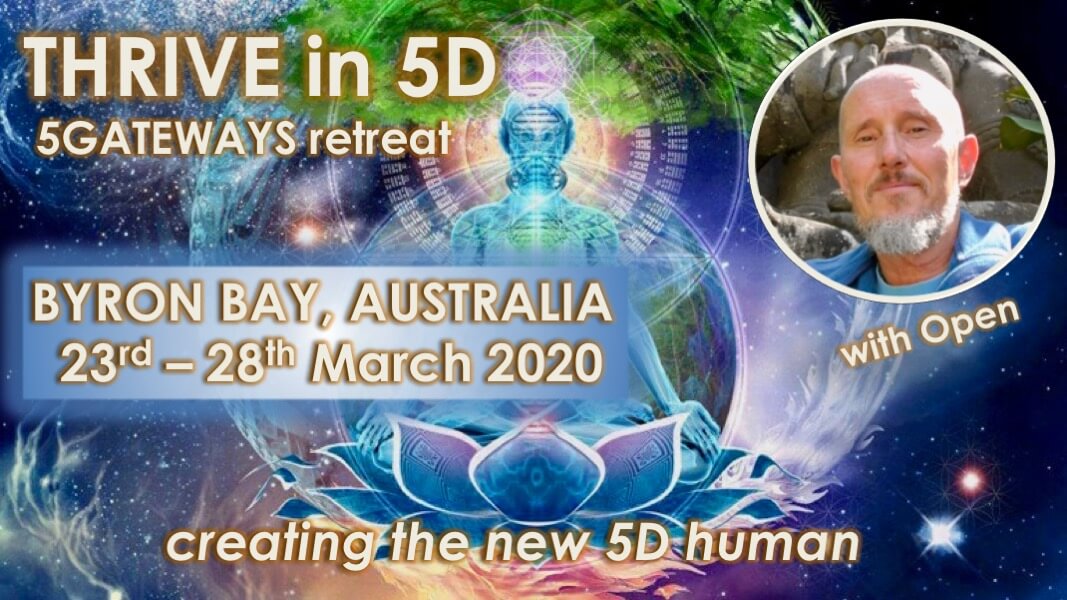 21st/25th Sep: BYRON BAY, AUSTRALIA, 5day retreat
We're thrilled to be bringing the Openhand energy back to the stupendous Rising Phoenix Retreat in the bush overlooking the Byron Bay area. The energy is marvellous at holding the space that we may dive deep into karmic density and come up shining. THIS RETREAT HAS NOW BEEN SHIFTED TO 21ST-25TH SEPTEMBER 2020.
Why wait? Let's Thrive in 5D!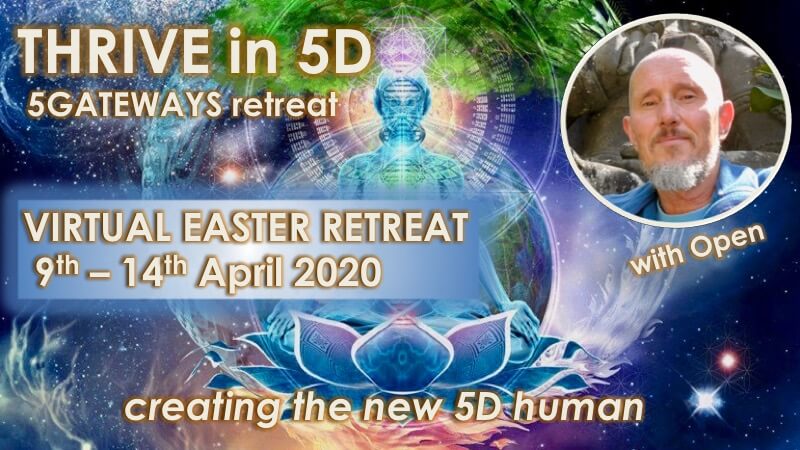 9th/14th Apr: VIRTUAL EASTER RETREAT ONLINE, 5 days
This event has been reshaped from the Bruges Easter Retreat so as to be able to connect with people around the world online. Including ground breaking meditation and deep inner inquiry. Let the very special spiritual energy of the time inspire your Ascension into higher consciousness and to live it right now.
Expand and live 5D consciousness right now!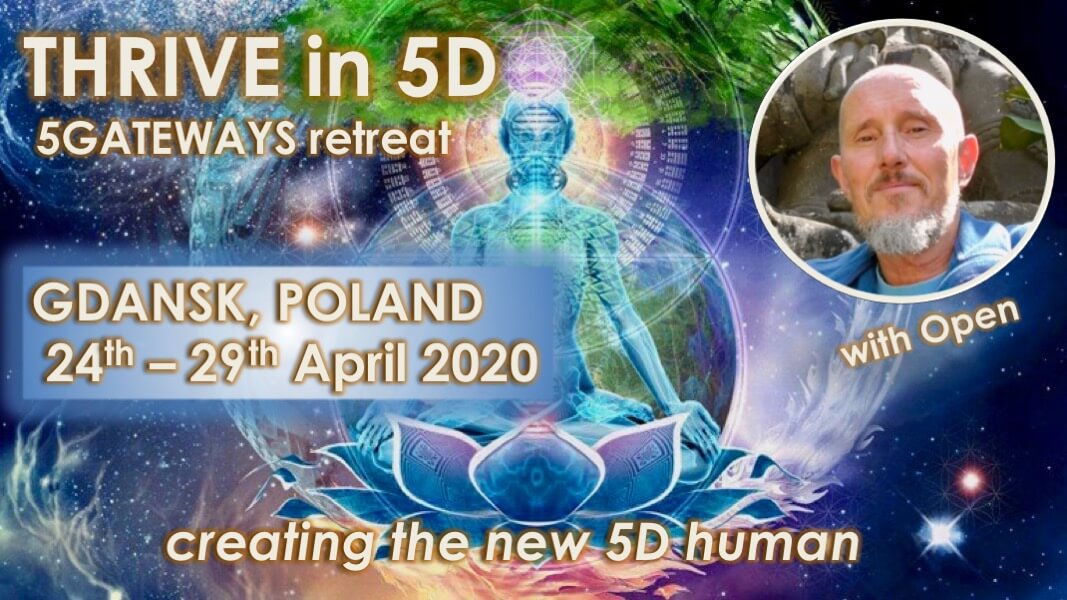 24th/29th Apr: GDANSK/POLAND: 5 day retreat
This is a real pearl of a venue, the Sound Temple of gongmaster Huzy. Let us together blow off the karmic cobwebs and unfold 5D consciousness for successful and abundant living right now. We'll come together to explore deeply how do you live the expanded 5D consciousness in daily life?
Let's expand to Thrive!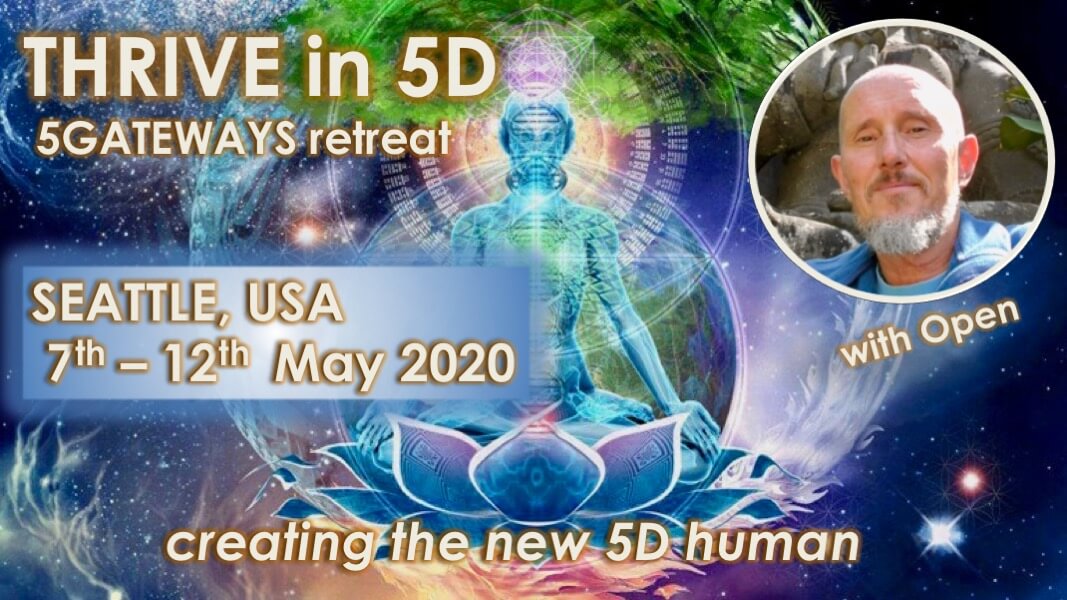 7th-12th May: SEATTLE/USA, 5day retreat
We're just off the coast of Seattle at the magical Harper's Hill retreat centre. It's the perfect environment to explore through and release karmic blocking density; to connect with nature, go deep within, and quantum shift your next evolutionary step. How can you bring expanded 5D consciousness into your daily life right now?
Let's discover how to Thrive in 5D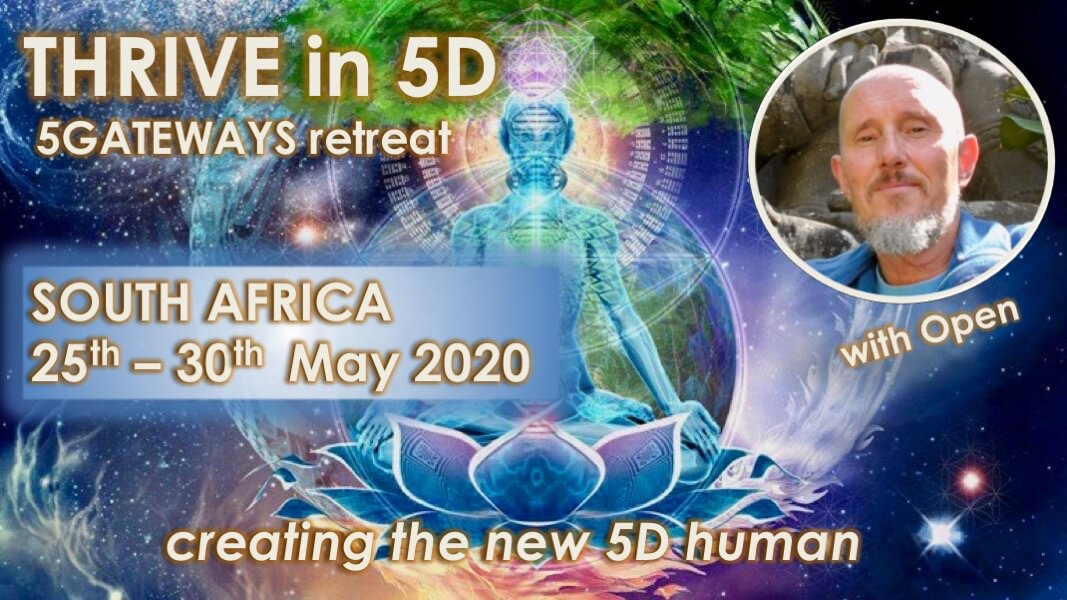 25th-29th May: CRADLE OF HUMANITY/AFRICA, 5day retreat
We're so thrilled to be back in South Africa and once more at the marvellous Medlody Hill retreat in the Cradle of Humanity. It's an alchemical cauldron to strip off what no longer serves and emerge as your shiny new 5D self. Let's unfold the highest aspects of yourself, and live the magic in daily life.
Our Times Call for us to Thrive in 5D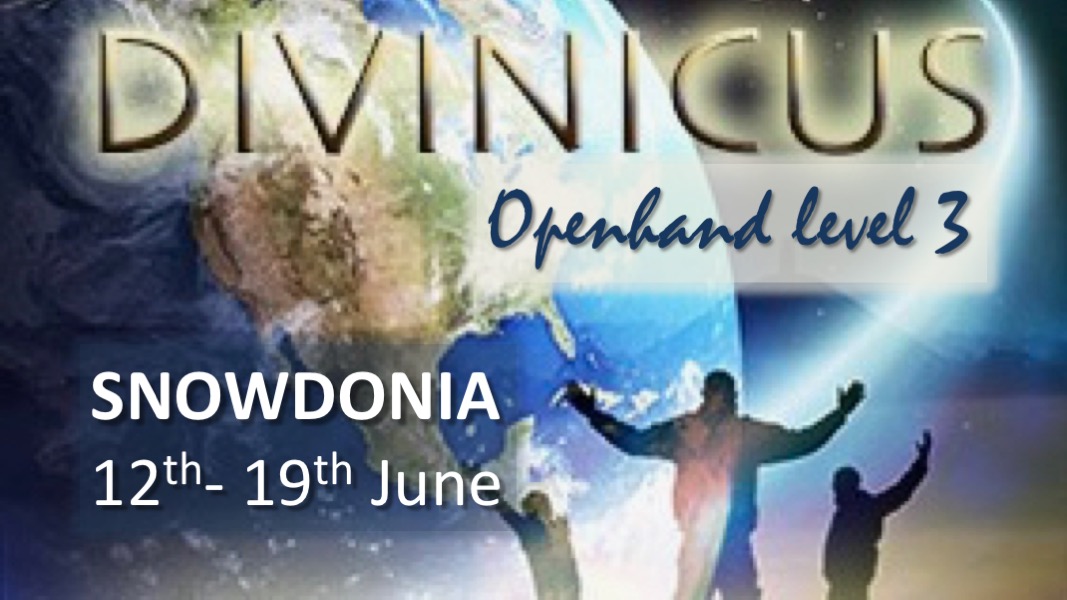 12th/19th June: SNOWDONIA/UK, 7 Day Intensive Activation
We'll be at the Lord of the Rings eco-village in the mountains of Snowdonia once more, with minimal matrix and high vibes to unleash your Cosmic Self. What is it like to live in the higher dimensional spirit light body? Come join us, as we drop through the karmic layers into the light.
Arise Divine Human!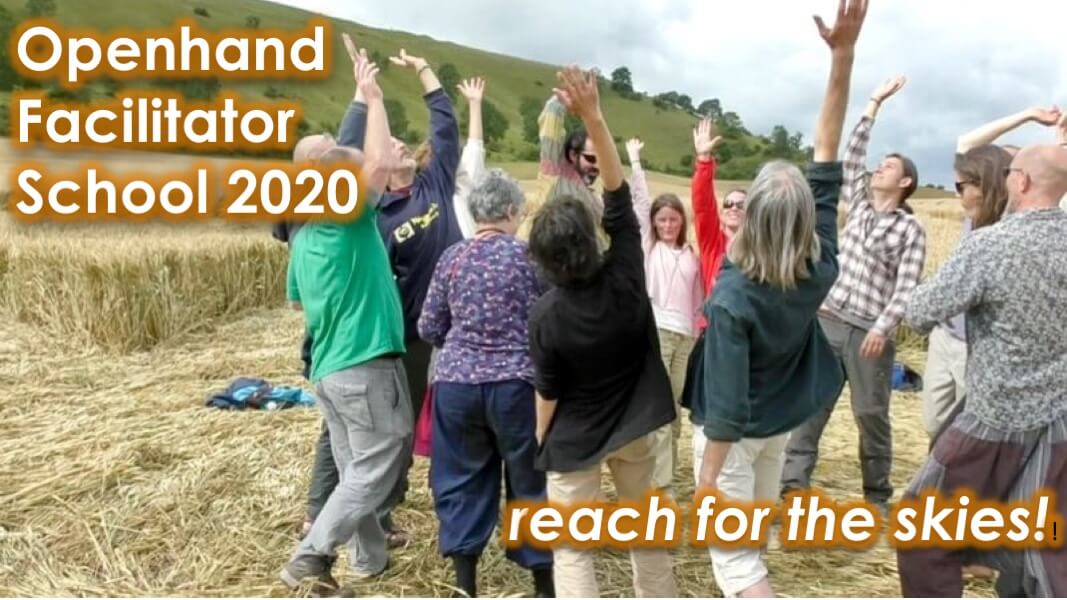 13th-19th July: AVEBURY/UK, 7 Day Facilitator School
There are over 7 billion reasons to become a spiritual facilitator in the shift! It's a calling from the soul, a yearning to be of servive. How can you facilitate a profound shift in someone by tapping into your highest self? How can you work with benevolence to support the 5D Shift? We're back at the mystical Avebury for this Adventure.
Join kindred spirits and develop your craft
It's High time to Thrive in 5D!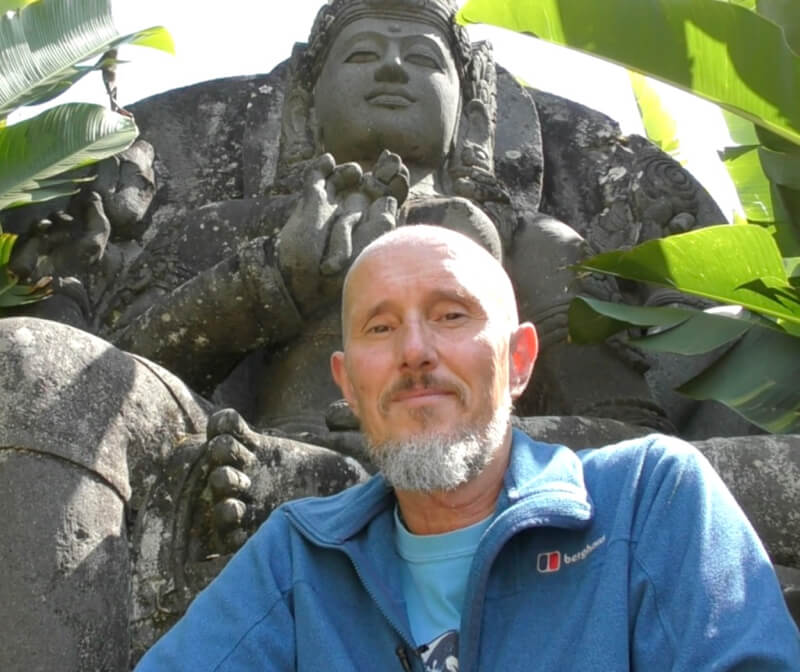 I'm positively brimming with excitement about the way things are unfolding in the shift and particularly within the groups that have been gathering thus far in the Openhand work. It keeps going to deeper levels, it's an absolute blessing watching people release their past limitations and shine forth with a new authenticity, living from expanded 5D consciousness. Where there's so much pontification and intellectualisation happening about humanity's future, you're just getting on with the job. It's both enthralling and humbling at the same time.
So if you resonate with what's being shared, or if you've been on the fence watching things unfold, now's the time to dive right in. The only thing you have to lose is illusion, and what you have to gain is the truth about yourself and the wider Universe. The Openhand Team very much look forwards to hosting you.
RESERVATIONS & INQUIRIES: to book places or get more information email Openhand's Community Coordinator, Aspasia: courses@Openhandweb.org