5GATEWAYS World Tour 2015: Schedule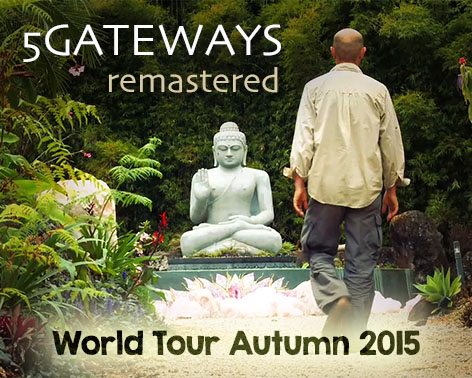 5GATEWAYS is a profound spiritual routemap, a philosophy that has been developed by "Open" (Chris Bourne). It can catalyse and accelerate your journey, illuminating where you are on the path, highlighting what you next need to work with. It's been helping thousands of people all across the planet. It's now several years on since the successful launch of the 5GATEWAYS project back in 2007; during which time, the Openhandweb community has grown immeasurably, so we've felt impassioned to remaster the project and relaunch it around the world in 2015, with seminars and retreats. Here's what's taking place in Sep/Oct/Nov/Dec...

This new wave of Openhand work, is happening with very synchronistic timing:
we strongly feel the underlying energy of the restrictive 'matrix' is now breaking down.
The once unbalanced 'playing field' is leveling: it's due time for humanity to step into freedom!
5GATEWAYS World Tour Schedule:
This is the current events program we've got lined up for Sep/Oct/Nov/Dev 2015.
(additional events will be considered for 2016 in other locations)

Event Info:
Click on the links above for info about each individual event. They're all arranged and led by local organiser/facilitators.
If you have any questions about the Tour in general, contact Fiona Reilly... fiona@Openhandweb.org
For Potential Event Organisers:
If you have some experience of organising spiritual events and you'd like to bring the Openhand work to your vicinity, contact us to explore further. Email Trinity Bourne... courses@Openhandweb.org
7236 Reads