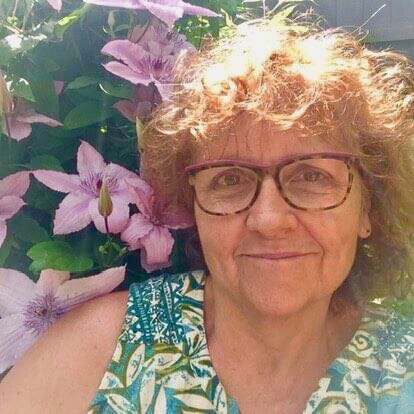 Biography
I know myself to be an Urban Shaman. Someone who feels close to Mother Earth, even in the concrete confines of the city. I feel my connection though the burgeoning of spring, blossoms of summer, fiery colours of autumn and icy slumber of winter. I express through the co-creative cycles of my garden, which nourishes my mind, body and spirit. I feel a kinship with tribal cultures and honour the glimpses I have had into their cultures, much of which resonates deeply. It truly inspires and informs my work, yet I seek not to copy, rather to know myself as an expression of a modern day, city-born, re-connected Soul living in an urban environment. A Soul who found her full Awakening through Firewalking and her "church" and Soulful expression in the heat of the Sweat Lodge.
My purpose is to practice the Healing Arts, live close to Mother Earth and be a Steward of Divine Connection. I'm developing a body of work to help people connect with Mother Earth, with their Core self, and with Benevolent guidance. Particularly to help urban dwellers connect with nature and the cycles of life.
At a key point in my life, I was helping Souls Awaken through my shamanic practices. It had never been an intellectual intention; it came through my delight to share Sacred ceremony and was something I regularly observed in my groups. At the same time, I realised I didn't have the depth of understanding to take people any further. I yearned for insight. But How? At that point I drew Openhand into my life and in an often co-creative and collaborative way I have gained a fuller sense of the Journey of the Soul in the cosmic multidimensional landscape. I feel blessed at this time in history to have a clear understanding of my Souls path and yet also to know the workings of the deceptive influences on the planet, which seek to constrain the natural birthright of Humanity. A constraint of the spiritual discovery, which should lead us out of the 3D physical realm, into the next finer level of experience; the more ethereal 5D.
You may have previously known me as Lesley Lord, as I appeared in the 5GATEWAYS Movie (2009-11) and also my name when I was Retreat House Manager for Openhand Foundation in Glastonbury (2013 to 2015). During the summer of 2020 I had some major shifts and realised that the name my Father called me is actually my Soul name. So I chose to reclaim the name Tilly Bud. Shortly afterwards I knew it was also timely to name my calling as Urban Shaman. The Spiritual Path is full of surprises, even at my age!!! These realisations are birthed through noticing and feeling, and sometimes with direct knowing from higher mind.
To the Openhand Community I offer:
One-to-One sessions for facilitation
These are 75 - 90 minutes and deal with a specific issue that can be felt as arising or as something stuck, even if not able to be named or articulated. My expertise often lies with noticing Inner Child energies which have not yet been processed, even in those well on with their Spiritual Journey.
The Fees are £45
Companionship Sessions
These honour the value which "my lightness of touch" and down to earth nature bring. Frequently it feels like a "normal" conversation as my natural style is to resonate my frequency and catalyse something in you, simply by being me. They really serve people who have a lack of trusted support around them on their path and want to ask questions relating to the ordinary everyday process of living whilst coming from a place of greater awareness. A series of 6 virtual exchanges which you may take at flexible intervals over the course of six months to two years. This time scale covers the time when people have more challenges and questions in adjusting to a new way of being. Priced as 1 payment of £25 followed by 10 monthly payments of £20 which gives a discount of £45 overall (so one of the sessions is completely free). Companionship Sessions work as a helpful complement to the Openhand Retreats which move lots of energy very quickly. Afterwards, one needs to integrate and feel the ongoing unfolding, all the while relating and changing within the experience of your life. The flexible nature of Companionship Sessions, and stage payments make the commitment feel very light, yet they are never-the-less a commitment and help keep your ongoing process on track. You have priority for appointments and can get in touch regularly or just at the moments when you feel you are "falling off' the path or in a quandary.
Chance to join my Group Work
as advertised on my website www.urbanshaman.uk Particularly the virtual "Sweet Lodge" Ceremonies. If you are in a different time zone, please discuss the possibility of specially arranged events for your time zone.
Tilly Bud - Stage 3 Facilitator
Tilly is a tremendously journied and wise soul - it's no coincidence that Owl has appeared in her cards! She has a deep and varied experience in Shamanism, being an advanced Fire Walk instructor, trained at Peggy Dylan's Sundoor. She has the most wonderful heart-warming connection to Gaia, and there's many a time where I've watched her hold the space tenderly and expertly, forming a bridge for people to the divine as they process through their density. It's in these moments where you need a rock steady confidence to hold you in the crucible - Tilly is just such a facilitator. She's also been developing her skills, knowledge and qualifications more recently as a naturopath. You will be well taken care of.