Crypto Tsunami in the Planetary Shift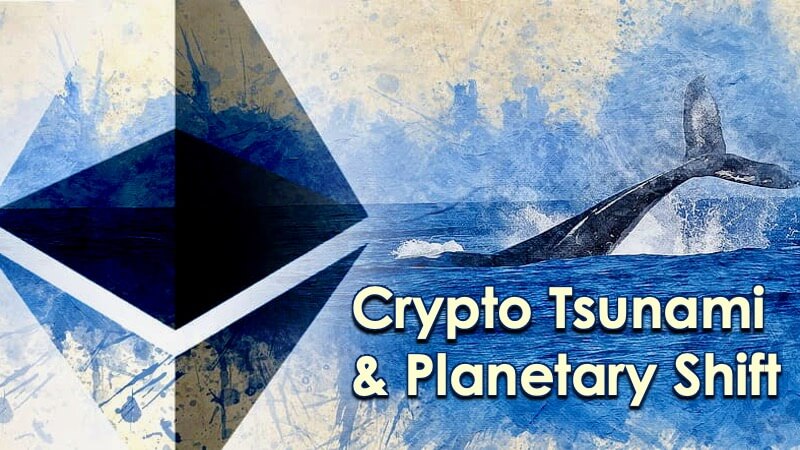 It's been a turbulent time for crypto. Many of us expected the extraordinary climbs to continue last year, but it would appear that shadowstate intervention and manipulation have thus far controlled the show. It can't go on much longer. Despite the intervention, waves of newbies are entering the space. The level of adoption is astronomic. I can feel a veritable Tsunami of funds on its way. Which can only be a good thing for the freedom movement and the planetary shift.
Crytpo: A Watershed in Human History
Whether you're involved in crypto or not at this moment, we're at a watershed in human history, a paradigm shift in how we connect and exchange with each other. The shadow desperately tries to cling onto the reins or else own the horse. My sense is that no matter how it regulates, it will ultimately fail.
There are simply too many intelligent Millenials, who've been mercilessly disenfranchised from the system, that are fighting back. With plentiful new projects they're springing up all over the place, like leaks in a very leaky dam.
I encourage you all to take heart. It's clearly demonstrating the demand for personal sovereignty. We're witnessing great crypto compassion in the Ukraine, with donations ballooning by the day. We saw it in Canada - Justin, you cannot prevent someone sending crypto from one private wallet to another!
Explore the Relevance of Crypto in Acquarius
The Crypto Freedom Convoy Rolls On
Have no doubt, the freedom convoy is on the roll and will not be stopped - I believe it can ultimately unravel the financial hegemony, that which underpins the injustice of the corrupt political system. Only time can tell, but there are many who feel the way I do. As encouragement, I felt to share this great exposé by a favourite, well-informed commentator in the space, Raoul Pal. It's a great snapshot of where we currently stand...
Bright blessings for a future of greater financial and communicative freedom.
Open 🙏
316 Reads