Divinicus Cometh - the story of humanity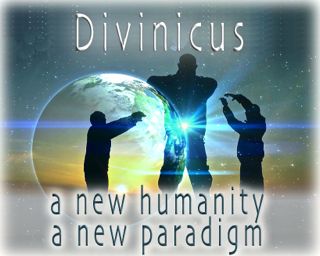 If I'm a little quiet on the web of late, it's because I'm beavering away in the background, completing the content for my upcoming book "Divinicus". All is going well, the material is mainly complete. It's literally a roller coaster ride, sure to be a very different experience than Five Gateways, which was more text book style. This instead is turning out to be a real heart racer. It's not just writing a book, but the feeling of activation of consciousness through a deep spiritual journey. What might readers expect?
A true story, larger than any fiction
I knew from the start I was given to share a message: What exactly is going on behind the scenes of this unraveling matrix? Why is it unraveling and why does it need to? And what's humanity's part in it? So I tell the story of how I incarnated into Chris's bodymind, the walk-in experience, the sacred contract each of us had. I share what it's like to come consciously into the physical density, to partially forget the higher paradigms and what it's like to remember again.
In so doing, I was taken on a journey, across the web and around the world, unveiling an incredible story for humanity and the planet; steadily activating a hidden multidimensional landscape, mysterious in its magnitude, breath taking in its duplicity, awe inspiring in its wonder. I share an insight into where humanity really came from with hard scientific evidence hiding in plain sight, but even more importantly, from past life regressions that many are now beginning to experience. Why exactly is the planet in the current mess that it is? And more importantly, what's the divine design of benevolence which is now very much in the process of resolving it?
It's a true story, but larger than any fiction. It's sure to enthrall, to captivate and to challenge... At times it may make you weep with the deepest sorrow, and then shine with the greatest joy. It's certainly not for the feint hearted, even a highly skeptical mind may well find his fixed ideas of reality unraveling. It's purpose is to captivate, catalyse, to break down, and then to inspire. It's not to replace your truth with mine, but to challenge any falsehood, that a higher evolution of your own truth may unfold. This is my story, but its sure to reflect a good deal of yours too.
Book launch
With the content nearing completion, we've been given a date for the release party. It will take place in the Avalon Rooms on September 1st this year, from 7-9pm (doors open at 6:30pm). I'll be presenting the book and sharing a short documentary Trinity will be producing. We're giving lots of advance notice, because we'd love to see plenty of Openhanders there. It's all about spreading the ripples of energy, that they may accelerate the tides of change. Following the launch, we'll be releasing the documentary the next day on the web (2nd September) where the ebook and paperback will be available on general release.
Those event details once more:
What?: Divinicus Book launch
When?: 1st September, 7-9pm, doors open at 6:30pm
Where?: Avalon Rooms, Isle of Avalon Foundation, Glastonbury
Entrance?: Free, including refreshments from Trinity's Conscious Kitchen.
See you there! Open
13407 Reads