The Growing Global Water Crisis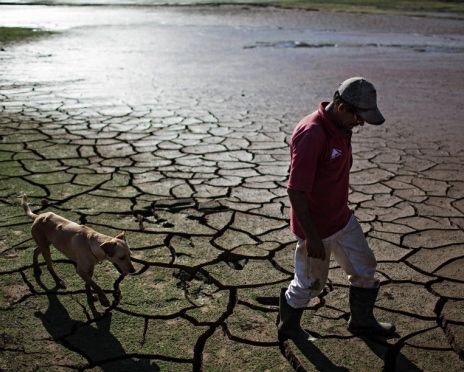 It is absolutely NOT Openhand's purpose to spread fear with regards to the very challenging situation Humanity is beginning to face. Quite the contrary, in confronting the truth of what's really going on, we can confront those limiting fears that may hold back our evolution. Living in some kind of la la land, simply does not work in the long run. Climate change - and the Ascension of Gaia - is accelerating into what appears to be (amongst many other things) a growing global fresh water crisis. Be informed, overcome any fear of what is going on, see the overall Great Realignment that's taking place, and unleash your soul from attachment and distortion in the physical...
Still climate change denying?
No amount of climate change denying will stop the inevitable process of change that has kicked into gear across our planet right now. It's a profound shift we've addressed in this video here below....
Water more important than oil? Now there's an idea that could usefully spread!
Gaia is moving on, into the Higher Paradigm, something that's going to increasingly affect us all moving forwards. Lets' work to embrace the truth in that, because it is only the truth that can truly set us free. In that vein, here's an article that recently appeared in the UK's Guardian Newspaper about the escalating global fresh water crisis. For me it communicates just how desperate matters are becoming, with people digging into concrete basements and carparks just to get at the water table - now there's an idea that could usefully spread!...
From the UK's Guardian Newspaper... "Last week drought in São Paulo was so bad, residents tried drilling through basement floors for groundwater. As reservoirs dry up across the world, a billion people have no access to safe drinking water. Rationing and a battle to control supplies will follow: Water is the driving force of all nature, Leonardo da Vinci claimed. Unfortunately for our planet, supplies are now running dry – at an alarming rate. The world's population continues to soar but that rise in numbers has not been matched by an accompanying increase in supplies of fresh water. The consequences are proving to be profound. Across the globe, reports reveal huge areas in crisis today as reservoirs and aquifers dry up. More than a billion individuals – one in seven people on the planet – now lack access to safe drinking water. Last week in the Brazilian city of São Paulo, home to 20 million people, and once known as the City of Drizzle,drought got so bad that residents began drilling through basement floors and car parks to try to reach groundwater. City officials warned last week that rationing of supplies was likely soon. Citizens might have access to water for only two days a week, they added. In California, officials have revealed that the state has entered its fourth year of drought with January this year becoming the driest since meteorological records began. At the same time, per capita water use has continued to rise. In the Middle East, swaths of countryside have been reduced to desert because of overuse of water. Iran is one of the most severely affected. Heavy overconsumption, coupled with poor rainfall, have ravaged its water resources and devastated its agricultural output. Similarly, the United Arab Emirates is now investing in desalination plants and waste water treatment units because it lacks fresh water. As crown prince General Sheikh Mohammed bin Zayed al-Nahyan admitted: "For us, water is [now] more important than oil."
Great Realignment is beginning to knock some sense into society!
See more on... Extreme Earth Changes and Patterns
Open

8797 Reads