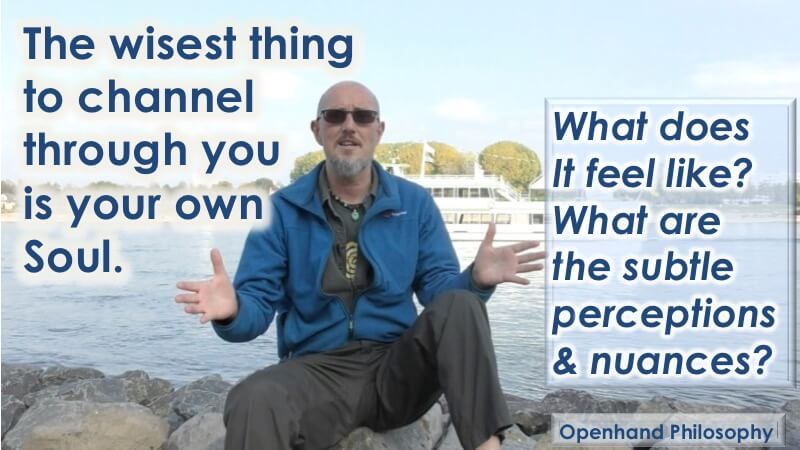 I put it to you that the wisest thing to channel through you is your own soul. It's essential to get to know the various impulses, frequencies and nuances that come through as your authentic beingness. What does it feel like? It's that sense of rightness of self, you're in your authenticity, come what may. It feels plain right, like falling off a log into your deepest sense of self, or else the upwelling of a deep yearning - "this is how to be now".
So what about signs and synchronicity? Be careful, they can so easily be mimicked by Opposing Consciousness if you're behind the signs, following them. When you're in the flow of your soul, it's like riding a surf board - you can't follow the wave or else you become awkward out of sync and fall off. You have to feel all the subtle nuances, frequencies and percetions coming through you until you become as one with the soul's wave. When you're flowing as the soul, everything clicks in around you in authentic signs and synchronicity to reflect that you have correct alignment and attunement.
And when you do fall off the wave (because we all do), no worries, no panic. Simply let go. Feel into any tightness, unwind it and soften through. Find the next expression of authentic beingness that wants to come through you and pick up this wave. You'll be riding again in no time.
So be wary of an external source, be it in the physical or ether that tells you to do 'this' or 'that'. I maintain a truly benevolent source is unlikely to do that because it risks overriding soul sovereignty and making you dependent. But you can take reflections - "this is what you're being now", both the aligned and the shadow. Take the reflection and fine tune your beingness. Right Action will naturally flow from there.
Open