Divinicus Tour Conclusion: Seminar, 10th December, Glastonbury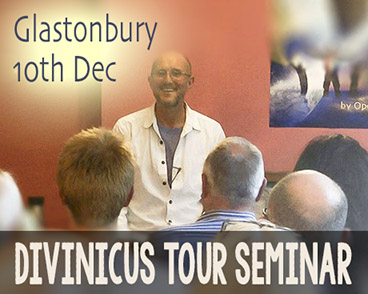 The Divinicus World Tour has been epic! I've met wonderful people all over the world, all unique beings, yet all with a common yearning: to evolve into a new form that you can feel in your soul. You recognise the problems in the world, and get a strong sense of how Gaia and Benevolence are now beginning to realign. Come join me in this final seminar of the 2014 in Glastonbury on Wednesday December 10th. I'll share many deep insights that have integrated since releasing the book and conducting the Tour. It's sure to be an unmissable evening...
The Message of Divinicus
It's a bold message indeed! But nevertheless, people all around the world are now beginning to grasp it. How the natural evolutionary path of the planet has been shunted out of alignment by an Interdimensional Intervention. Humanity has been purposefully hybridised to fit within a synthetic reality, the consequence of which, has been inexorably destroying our biosphere.
The evidence is there, in plain sight. From the megaliths at key sites around the world, to the very configuration of our DNA and chromosomes, it's abundantly clear that our consciousness has been controlled. But now we're breaking free!
You'd be forgiven for wanting to bury your head in the sand. But that won't get you anywhere. Only the direct confrontation of the truth can truly set you free. We must look deep within and understand how this intervention only happened because of unconscious blind spots. Indeed we have been actors in a much bigger drama - the One, bringing consciousness through unconsciousness, light into dark.
Understanding how the big picture is affecting you in every moment, empowers you to break through the limitation and reclaim your sovereignty. That's the purpose of this Seminar: to help you fully see how you may empower the divine being dwelling within.
We'll also consider the messages Gaia and Benevolence are sending. Underlying shifts are happening all around us. What exactly is humanity being told?
Where and when? - the details:
Where?: Glastonbury Town Hall
When?: Wednesday December 10th, 7.30pm (doors open 7.00pm)
Cost?: £5 including refreshments
Glastonbury PLG: in association with Glastonbury Positive Living
Accommodation at Openhand Centre
For those wishing to travel for this final DIVINICUS Seminar of 2014, you may wish to stay at the Openhand Centre in the heart of Glastonbury. You'd be most welcome. Email us for full details... lesley.lord@live.com
Enthralling Evening!
Come join us for a truly enthralling evening and discover what has touched so many souls, so deeply, all around the world. Openhand - you'll be in good hands!
See you then!
Arrange an Openhand Ascension Seminar in your country
We're traveling all over the world to assist in this great shift of consciousness. If you'd like to bring Openhand to your neck of the woods and experience our ground breaking work, then follow the link below...
Openhand Ascension Seminars
The Openhand Team
9113 Reads