Being Authentic & Personal Sovereignty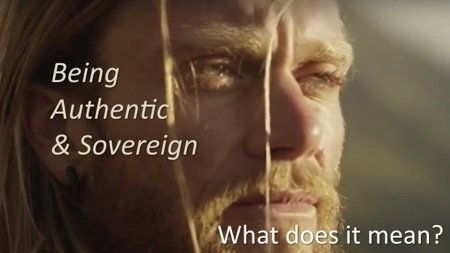 Hi Everyone, greetings newbies and old hands. The field called me to have a brief, but meaningful, exploration of authenticity and personal sovereignty at this time. It's fundamental to the Openhand philosophy to encourage and help build these qualities. It's all about reflecting frequencies of being that people might resonate with, and feeling those for themselves inside. Be aware, that a good reflection is going to do one of two things, and ideally both...
Resonate your own soul frequencies of being so that you can feel, embody, and be,
more of your authentic self.
Activate inner filters and blockages, felt as tightness or resistance, be it physical, emotional or mental, so you can work into them and unwind them.
Both of these reflecting activities, when done well, will support the growth of inner peace, plus a feeling of greater liberation and expansion.
Sometimes you might resonate with something very strongly, or be rejected very strongly. But before allowing the 'knee-jerk' reaction to govern activity, there's an invitation to explore internally what is catalysing? For example, if there's a concern about loosing oneself in the approach, and there's a natural desire for personal sovereignty, it would be highly productive to explore why? If there's simply a rejection and pulling away, is that being truly sovereign? The invitation of the Universe is to be you in ALL situations and circumstances.

Sometimes there might be a feeling to project onto the external reflection. By this I mean that blame is cast outwards at the subject for a reaction that is felt inside. What's actually presenting is a golden opportunity - where the external catalyst is working its magic. Rather than projecting at them - or for example Openhand - the invitation is to go inside and find out why? What am I attaching to or reacting to? I now have the possibility to discover something deeper about myself.
On being authentic, and what that truly means, in the Openhand Approach, it's about coming from the inherent frequencies of your soul. This would also include allowing the expression of distorted aspects of yourself to come through, so as to allow the opportunity for greater realignment - you can only realign what you can see!
Here's a video shot on tour, exploring what it means to be truly authentic. Take a peek and then do comment below - I'd be most interested in your authentic feelings & thoughts...
In loving support
Open

1074 Reads