Facilitator Summer School 2016..."The Crop Circles Speak"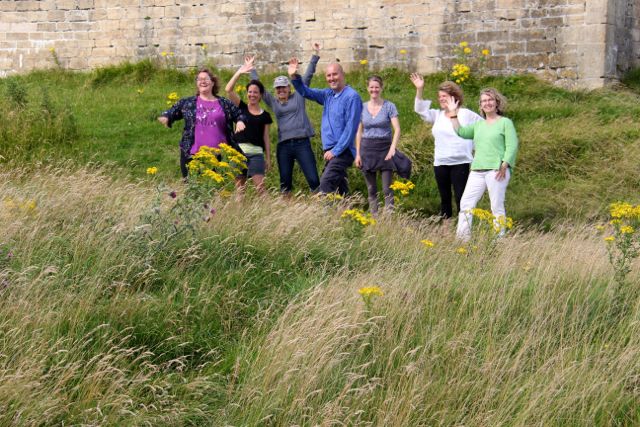 The Openhand Facilitator Summer School begins in Avalon today, with a lovely group of souls gathered, facilitators who've been involved in the Openhand program now for several years. It promises to be special (as always!), especially because of the timing. We're in the midst of crop circle season here in the UK, a time of heightened energy, where benevolence is clearly 'speaking' to those actively engaged in the Great 5D Shift of consciousness taking place across the Earth. Ultimately, that's what Openhand Facilitation is all about. Facilitators are developing their energy skills to assist one-on-one in people's personal evolutionary stories, but also, to help work the energy field at large. If divine service is what inspires you, then come join in the rolling journal we'll be recording...
White Horse 'Medicine'
Yesterday I felt to prepare energetically for the gathering and so went into meditation to feel how best to lay the 'foundation'. It didn't take long for the image of a white horse to come into mind. I knew immediately what it was referring to - one of the ancient white horses cut into limestone not far from Avalon in the very spiritual locality of Avebury - a place reknown the world over for the very mystical appearance of crop circles at this time of year.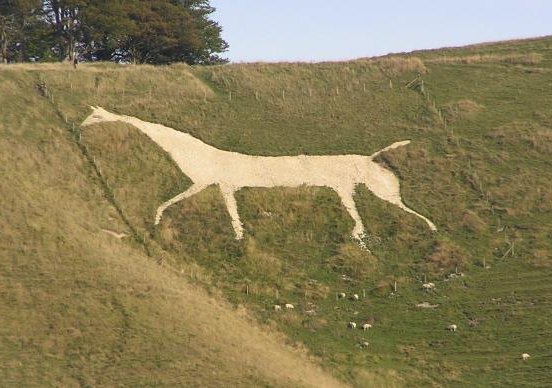 This particular White Horse has been a favoured wild-camping location of mine for some years, it's high elevation providing stunning views out across the Wiltshire countryside. But would there be a crop circle nearby? This is what I wondered as I headed out in that direction yesterday. My first port of call however was not that particular ridge itself, but rather an intriguing crop circle exhibition in the nearby town of Marlborough. Here you can see their website, containing many wonderful aerial photos...Crop Circle Exhibition UK When I arrived, there was a lovely synchronicity - a local organisation was holding a 'summer school' in Marlborough and from where I entered the town, the sign seemed to point directly to the church - to the crop circle exhibition. I simply knew in my heart this was a message meant for our Facilitator Summer School!
Why are crop circles so special?
If you've ever been to one, and you're remotely connected into the surrounding energy field, you simply can't fail to be astonished by them. Firstly their stunning geometric patterns contain the most moving metaphoric messages for those with open minds and hearts. The technology is simply breath-taking - the crops have been 'pressed' downward into intricate interrelating patterns of the most incredible sophistication. Energetically, they are off the scale: standing in one (when they're authentic that is), can have the most magical opening, healing and realigning effect on your energy field.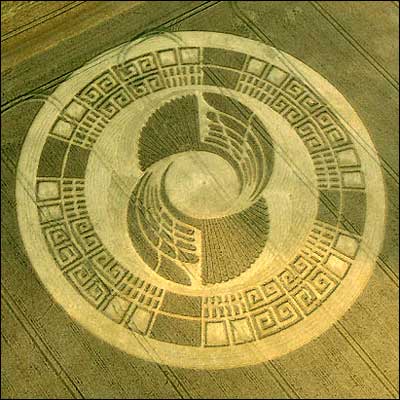 These are most definitely, without question, a means by which higher consciousness is speaking to us. Some of course have tried to ridicule them (they actually only end up ridiculing themselves). There's no way they (the authentic ones) are created by some 'army of new ageies', sneaking quietly out in the middle of the night and carefully folding over the crops! First of all, when they appear, they are practically instantaneous. There are no tracks leading into them, and most are on such a gigantic scale, it would be nigh on impossible to plot the intricate shapes so accurately without being done from an elevated position. There's no doubt in my mind, these are the work of highly sophisticated beings working interdimensionally through the field.
Crop Circle Exhibition UK
At the Crop Circle Exhibition UK, I met a lovely lady called "Silver". My heart was literally pounding when she told me that.... "a crop circle has appeared the previous evening, not far away, which can clearly be seen from the ridge with the White Horse". Wow! Thanking her profusely, and taking swiftly off in that direction, I just knew there would be a particular message in it for me, and for the commencement of the facilitator gathering - how blessed! I made it to the ridge about an hour later, and there it was, a stunning crop circle way off in the distance. I could clearly make out the interrelating geometric triangles and pentagons - 3 and 5 sided shapes.
I already had a sense of what they might be referring to, however, I just knew, that no matter how difficult the journey, I had to stand in the centre and feel the energy - especially with it being so fresh. So I marked the location in mind and heart, and took off via a circuitous route across the fields, eventually finding the circle some while later. Picking my way very carefully through the undisturbed field, leaving behind me any low energy paraphenalia such as phone and wallet, I eventually found myself in the circle itself. I can't tell you how tremendous it felt to be there. Not another soul was around, which heightened the sense of peace and expansiveness.
Interrelated Sacred Geometry - "connecting the fragments"
It was clear to me the interrelated 3 and 5 sided shapes were of special significance. But having no aerial perspective at that stage, I couldn't immediately know what it was telling me. Although standing in the centre, I could most definitely feel both a counterclockwise ascending energy spiral, and a descending clockwise one. And most marked of all, was the fantastic sense of expansion in the third eye.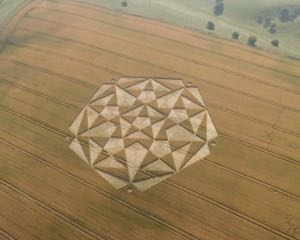 When I saw the aerial photo afterwards, that the Crop Circle Exhibition people took, it became abundantly clear to me what is being communicated - it landed as a higher dimensional knowing in a flash. The triangles represent fragments of light (of consciousness) stuck in the darker elements of the 3D - they are separated in time and space. The ascending flow of energy is connecting these into pentagons - 5D shapes - representing the ascension into the Fifth Density. Which is what I was feeling through the spirals of energy themselves. (What do you see? Do share below.)
So the message for the facilitator work, is all about connecting broken, disconnected fragments of light in the 3D, harnessing and channeling them together, that they may reunite in the Fifth Density. It's work that can be done both within an individual and at a collective level. Today, as the Summer School begins, I'm still pinching myself in awe, excitement and astonishment. What a great way to begin the week. Tune in and join us. The energy is sure to speak to you profoundly, where space and time are no limitation!
Namaste
Open
5995 Reads