Openhand's 5D Ascension Message - Help Spread the Word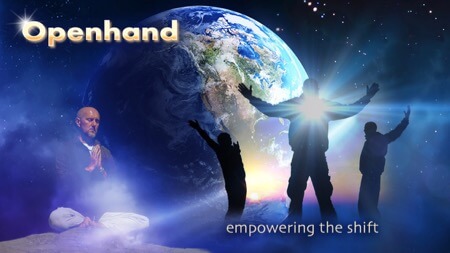 Hi friends of Openhand, what incredible times these are! The Openhand work was especially crafted to mediate through them. But we could use your help too. How so? We live in a curious system of control, which doesn't become obvious until you get close to the truth of what's going on and share it. Then you notice how search engine alogrithms are turned against you. Like when I wrote about the impact of FiveGee and the likely intentions behind it, the Openhand traffic from search engines plummeted a whopping 40% over night!
That won't deter us, it'll only spur us on, but we could use a little help and support. Here's how...
Spectacular Emergence of Consciousness
Actually, as I write this, I'm not in anyway daunted by what's unfolding out there in the 3D at the moment. Quite the reverse. I do believe this pandemic has been purposefully concocted to control and reshape society, or at least ramped up, to try to close this amazing awakening down; to try to fit us all back into the corporate box. I have the sense that it will backfire spectacularly. I sense that plenty of people will see through the veils, especially of how it's being handled. They'll pinch themselves more fully awake and realise the bankruptcy of the current system. That it doesn't serve our emergence of consciousness. I already feel a growing wave of people turning deeper inwards and towards their Ascension into a New 5D Paradigm of Being.
That must surely be the way forwards for awakened people right now.
I realise there's plenty to integrate on that journey, which will take time and dedicated practice. I realise the 'end goal' of the New Paradigm will seem distant in the beginning. That's because it's realised progressively in each step - we deepen into it with every choice and action, in every unfolding moment. That's how the 'ship' ultimately appears on the horizon. So you don't have to be clear on the destination. Just that you feel to head in the direction of ascending consciousness. The rest will become clear and unfold along the way as you deepen the journey.
Hence the Openhand focus is now all about deepening the inquiry into ascending consciousness.
How might you help us to help others?
Sharing the Light
Personal recommendation and word of mouth are by far the best way to connect with new people: to point people to the right material that can help them. Over the years we've reached some beautiful souls and helped spur them along their way. But as times change, we do require help to ripple the light further afield now. In the past, people who've come through the work have often been shy about sharing. I think it's because people felt it put them a bit 'out there'. Well I would say now is the time to find allegiance to your expression of soul and the shift. To step out and step up. That's what's going to help the emergence of soul no end. We can explode the myth of the 3D limitation by shinging our light.
So if you feel moved to, how you may help Openhand to help others is to forward on articles, videos, audio meditations and events that you resonate with and think might help someone else. Below every entry, be it article, video, audio or event, you'll find social media buttons including a new one, which is to be able to easily email a link to someone at the click of a button. Check out the image below and you'll see it in orange...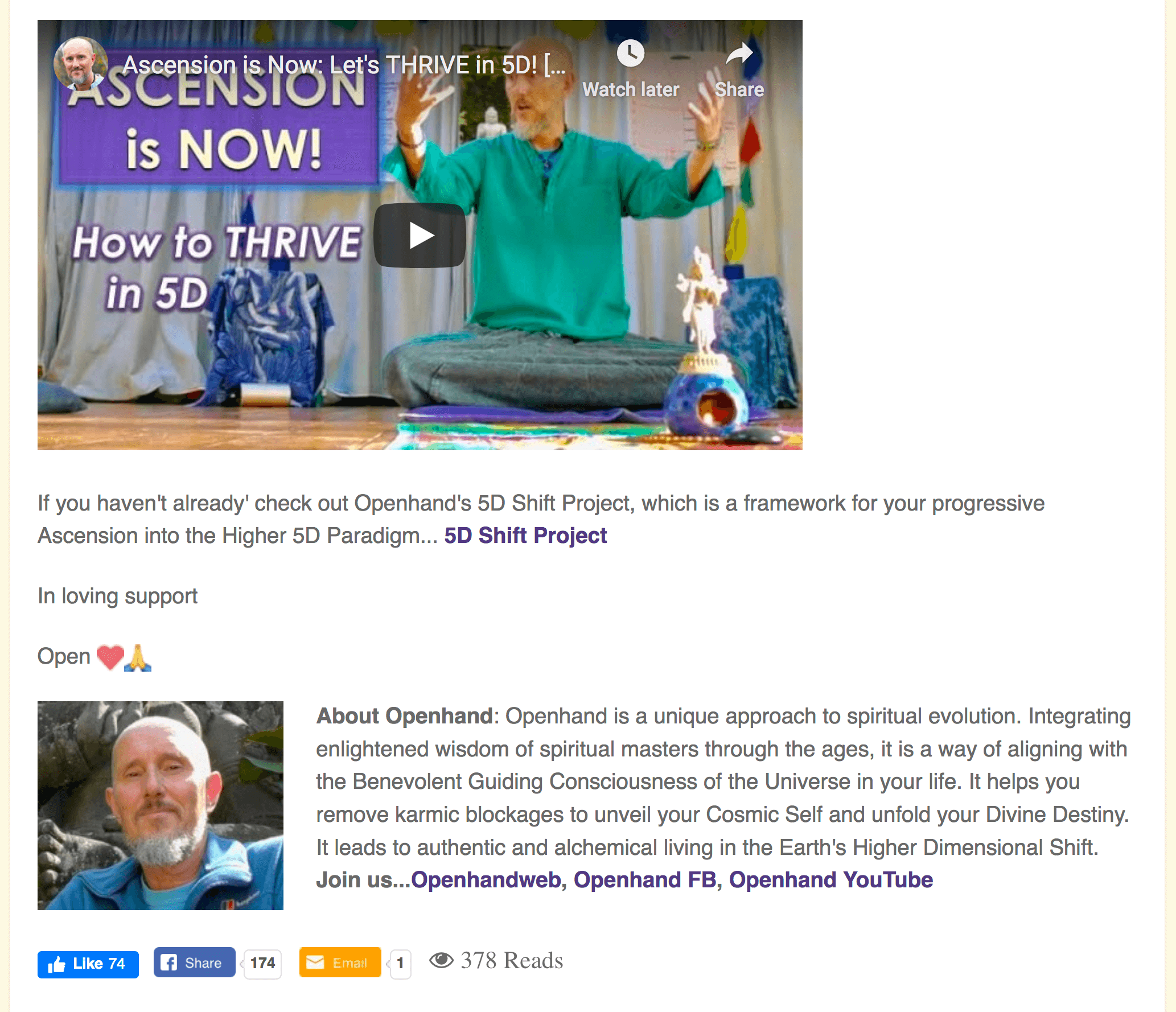 New Commentary System
We also have a new commentary process, whereby visitors to the website may comment without being logged in. Although of course these comments do go through a capatcha proceedure and need to be approved by the moderators (so as to avoid spam). It helps enormously to ripple the light when we share our views and feeback. So let's get weaving together and give a degree of umph to the Shift. That's what is needed right now.
Thankyou so much for all the love and kindness you've shown Openhand over the years.
It fills the heart and is tremendously appreciated!
Much love to all
Open


540 Reads