Openhand Facilitator Summer School 2017: "The Starsouls Emerge"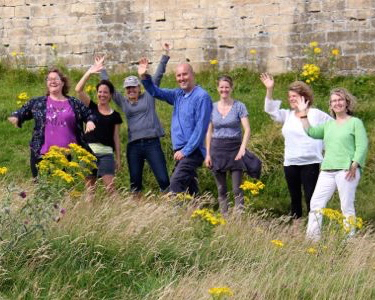 We're literally buzzing here in the Openhand camp, because our Facilitator Summer School begins today, with 15 of us gathering once more near Avebury, UK, in what can only be described as 'crop circle grand central'. Openhand facilitation is all about learning to support consciousness expansions within people through the earth's Great 5D Shift. The shift is influencing all our lives, in our careers, relationships and general living circumstances. So by coming together and intuiting what stage the movement of energy is heading through, helps us be much more effective as facilitators. So what's involved in Openhand Spiritual Facilitation and what will the week be about? As always, we'll be running a daily journal so you may join in the energy...
Building Bridges in the 5D Shift
Openhand Facilitation goes much deeper than simply coaching. What we're working to do is connect with soul frequencies, through different densities, and to resonate them so as to create bridges into higher conscious awareness. If you can feel your higher self frequencies, then you get the chance to embody them, to your great benefit in daily life - you feel more connected to the source and the guiding flow helps make sense of twists and turns on the path as your life circumstances change and evolve.
People in the Openhand community will know that from the beginning of 2017, I've been working to establish an Openhand base, and a higher dimensional bridge, on the Island of La Palma in the Canaries (see our intrepid facilitator group Jan 2017...La Palma Pioneers)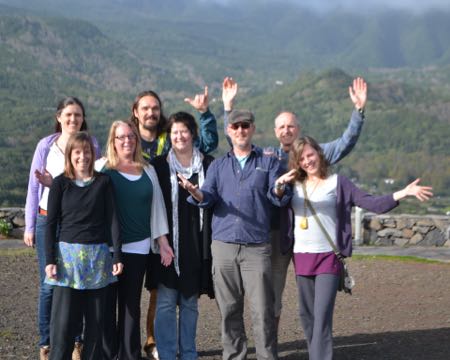 Well just before I departed for Avebury last week, I had one of the most miraculous of encounters...
I was at a Sunday fresh veg market on the north west of the island, just chilling and minding my own business, when out of nowhere, a 'shiny eyed' guy approached me saying "You're Open aren't you? We called you here." It turns out he's living with a group of 3 Pleiadian star souls, holding a key energy centre at the apex of one of the valley's, and, wait for it... building an energy bridge for the Great 5D Shift. They'd come across the Openhand work and wanted to collaborate. It's a very small world indeed!
Connecting starsoul groups into the bridge is of key importance to Openhand. What does that mean and why is it important?
Many souls are from the stars
Many people who are drawn to this work, whether they fully know it or not, originate (as souls) from other constellations in the galaxy. Yes, we're embodied in human form, but in the nature of your soul (your 'soul ray harmonic'), you carry special frequencies that can support the shift for others and assist in the realignment of the surrounding energy field as Gaia shifts into the New 5D Paradigm.
The point is, if you can activate these very special frequencies of your soul, then you're going to feel much more connected to your soul family and your true home in the cosmos. You'll unveil profound gifts of beingness you never imagined possible and then be able to help others feel, and embody, their own soul frequencies - it's just like striking a tuning fork, which then resonates in other people. You could be sitting minding your own business in a tea shop, and yet having a profoundly beneficial affect on the field, which others there might well begin to resonate with!
Souls have come here from many constellations such as the Pleiadies (all humans contain an element of Pleiadian DNA), Sirius, Orion, Andromeda and Arcturus (to name only a few). This last one is interesting, because the universe has been hinting to me about activating the Arcturus connection within the Openhand work - thus far, they've been quite a mystery to me, but I can already feel my soul intrigued by refamiliaristion.
Crop circle grand central
So what have the crop circles got to do with it all? Of course there's been much speculation (and even ridicule) about how the crop circles are created - "a bunch of guys with sticks and strings stealing through the fields in the dead of night". But if you've ever visited one, an authentic one, the notion is just a ridiculous as building pyramids with basic hand tools!
The patterns are amazingly intricate, the geometry astoundingly precise, the crops carefully folded over and interwoven. They appear breathtakingly suddenly, and the energy in them is literally off the scale. So what are they?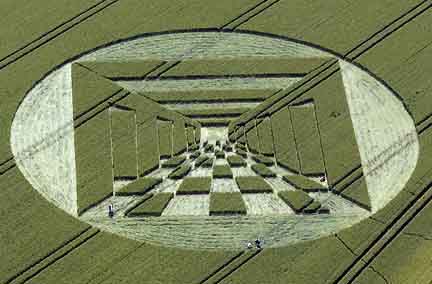 To me, they communicate messages through intuitive feeling. For example, a few years back, I was guided by the heart-felt pull to a place where the one in the photo had appeared, just as we had been remastering the 5GATEWAYS 5D Shift Movie. To me, it intuitively depicts traveling up from the base of a pyramid (representing the matrix in which we live), across a chequered path of black and white choices (representing the path), through 4 gateways into the Fifth Density. It activated in me an amazing sense of accomplishment and an acknowledging feedback loop from the universe. It warmed my heart!
Facilitation Work Grounded in the Here and Now
So yes, we'll be having plenty of cosmic experiences, of that I'm sure. But we'll also be very grounded in the here and now. People who come seeking support and help from the Openhand Facilitator Network have very earthly challenges to deal with - in relationships, careers and general living circumstances (like financially for example). At the end of the day, it's all about embodying beingness through self-realisation. So we're mastering our skills of intuitive questioning to get to the nub of the issue - of course the answers all lie within, and as facilitators, we're working to help people pinpoint and uncover those.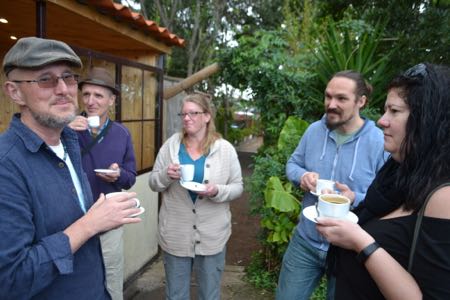 So do join us for the week - through the ether. Even if you don't consider yourself a facilitator in the shift yet (we all are!), you're sure to pick up some priceless gems and resonances. It's wonderful to see you. Open *give_rose*
4145 Reads